How to choose shading for passive and low energy houses
The shading for passive and low energy houses should be discussed with your architect in the project phase. Along with other energy modifications, the shading ensures a stable amount of light and heat in the interior throughout the entire year. Additionally, you save energy costs and your house will be more environmentally friendly. Read how to select shading for your passive house.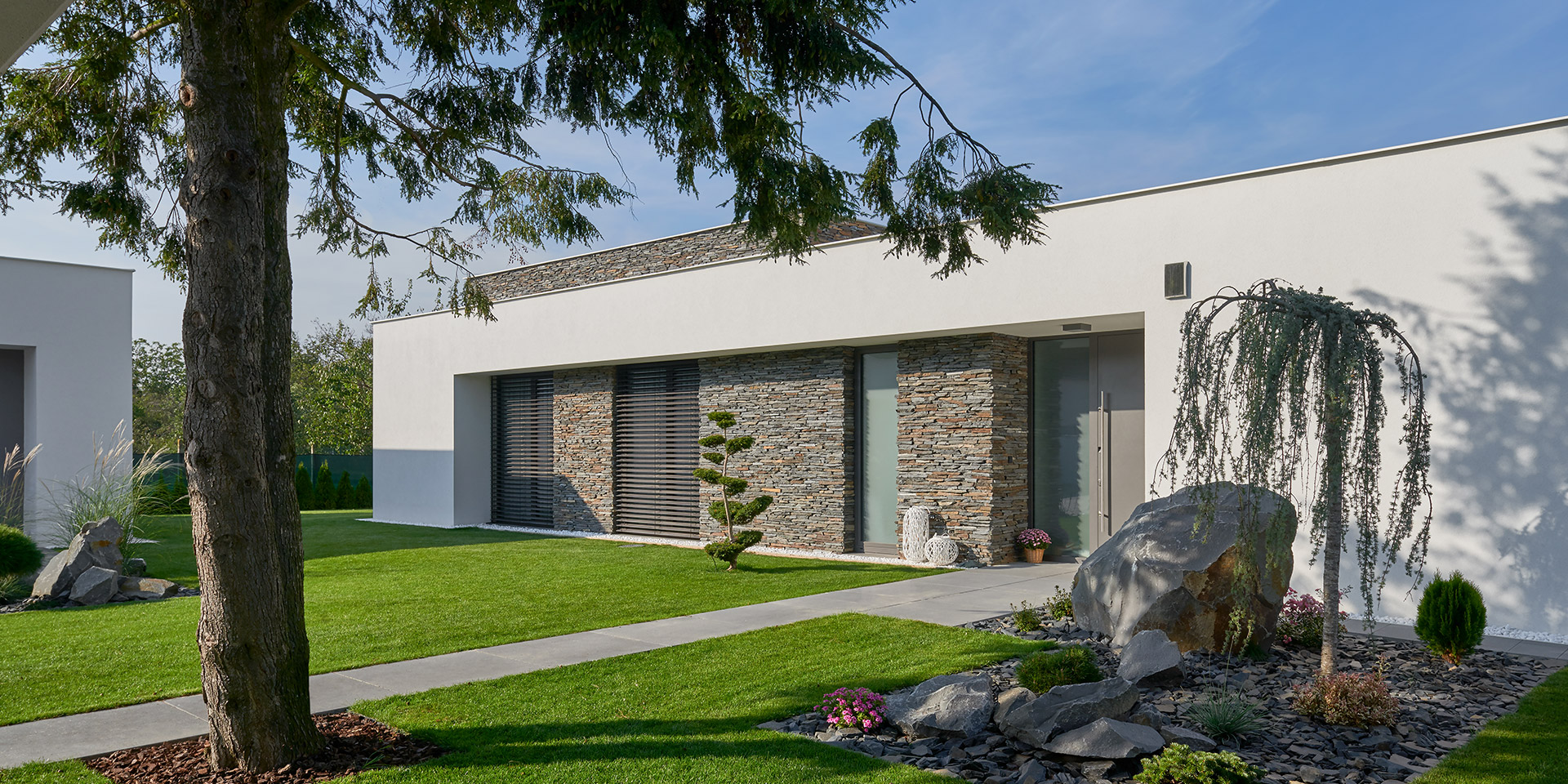 Passive and low-energy houses differ from common buildings with their low or zero energy consumption and constant interior temperature throughout the entire year.
Most passive houses are block-shaped, with their longest side with the largest window surface pointing to the south, south-west or south-east. The houses are designed specifically to get as much energy as possible from thermal radiation. This is great during winter, as you don't have to heat the interior, but causes overheating during the summer.
The south side of a passive or low-energy house typically has habitable rooms in it, while the north (cooler) side has bathrooms, toilets and closets. Areas such as garages and conservatories are separated from the house to prevent unnecessary temperature fluctuations.
Differences between a passive and low-energy house
| | Pasivní dům | Nízkoenergetický dům |
| --- | --- | --- |
| Annual energy consumption | maximum of 15 kWh/​m² | from 40 to 50 kWh/​m² |
| Glazed surface | maximum window area of 40% on the south side of the house | maximum window area of 25% of the entire shell of the house |
| Window thermal conductivity (Uw) | Uw | Uw ≤ 0.8 W/​m²K |
| Solar energy | Yes | No |
| Heat recovery | Yes | No |
| Controlled ventilation | Yes | Yes |
| Thicker insulation | Yes | Yes |
| External shading | Yes | Yes |
Without the heat recovery system, construction costs for low-energy houses are equal to those of a regular house. However, you save about 100 kWh/​m², as the annual power consumption of a standard house is about 120 – 150 kWh/​m².
Architectural elements: always only partial house shading
Windows with no shading let about 64% of the solar radiation into the interior. Objects in the interior absorb the rays and proceed to radiate heat continuously, which heats up the interior. This can be prevented using basic architectural elements, such as:
pergolas with French windows,

or sun breakers, which reflect the summertime sun, but let low winter sun rays inside.
These elements do not provide 100% protection for the windows. In order to keep a pleasant temperature in summer as well, combine it with external shading – install external blinds, roller blinds or screen blinds onto the windows and awnings for balconies and terraces.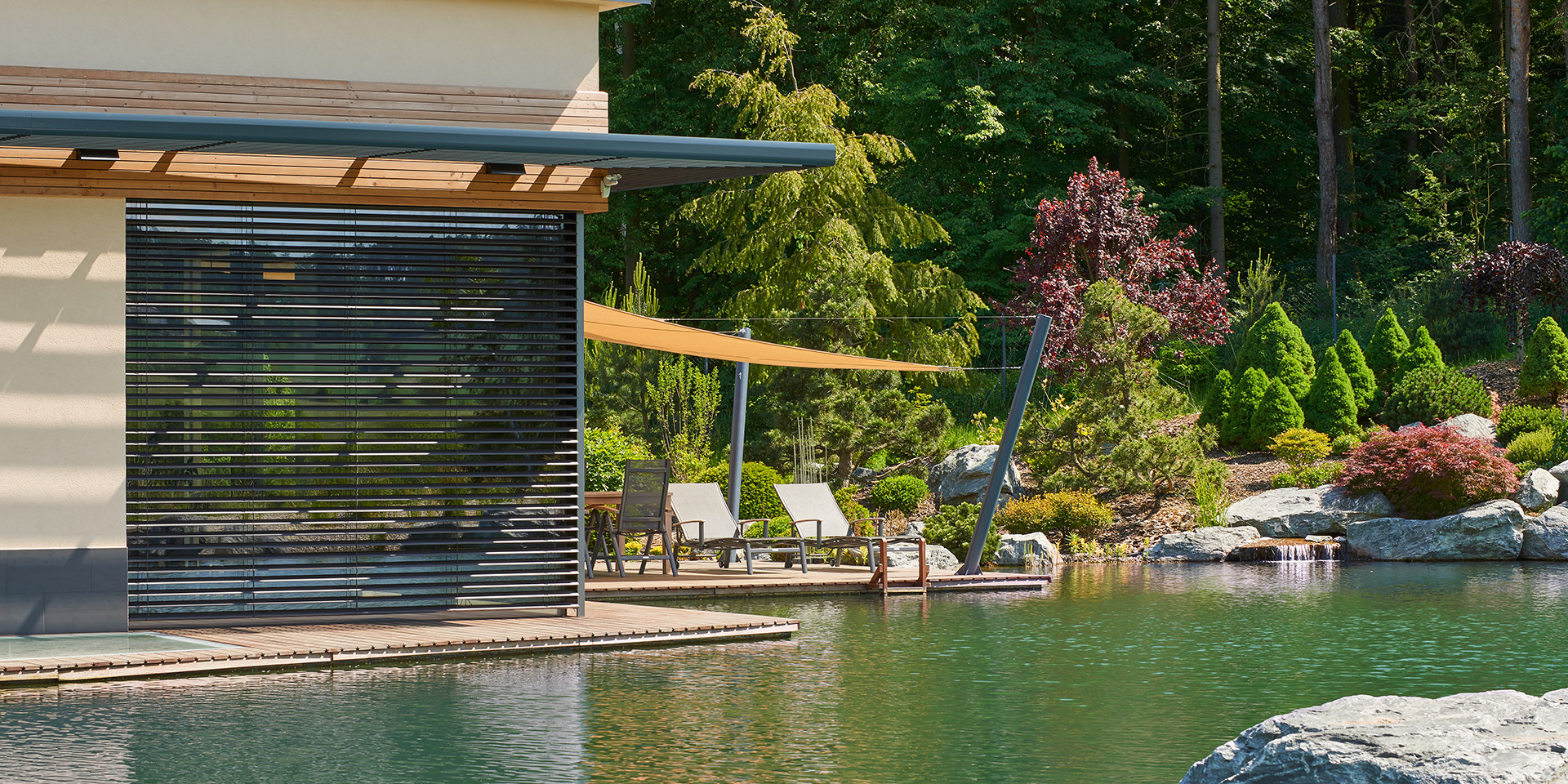 External shading: combine with sun sensors and install on facades.
External blinds are the ideal way to reduce the interior temperature in summer by up to 10 °C and create almost absolute darkness. We recommend their installation on ISO-KASTL or sandwich plates, which have both the packet and guide elements hidden within the plaster of the house.
Any jalousie-type blinds can be used to precisely control the amount and direction of light that you want to let into the interior, which can never be achieved with roller blinds, awnings or screens – roller blinds can either be dropped all the way or partially. For some basic variants of awnings and textile screens, you can't even prevent a share of the rays from penetrating through the fabric.
All solutions can be connected with smart home controls and controlled using sensors and motors. When the sensor detects sun rays, it signals the motor to shield the windows. Similarly, it can retract the blind to let more light in. This way, you ensure a stable interior temperature and save heating/​cooling costs.
Z and S slats: reliable shading for passive houses
Type Z blinds are the ideal blind type for passive houses, because their slats fit precisely into each other when shut, letting only a minimum of light into the room. Thanks to that, they are very useful in the summertime for the south side of your house – in bedrooms, living rooms and study rooms. This variant is elegant and its technical appearance makes it go well with modern buildings.
During the winter, the blinds can be easily hidden into the sheet metal cover or a case concealed underneath the plaster, leaving the interior to warm up. You can also tilt them to one side by up to 90 degrees to redirect the rays whichever way you need.
The same properties as the Z variant can also be achieved with S‑shaped slats, which have a more elegant look to them and make the facade look more subtle.
C and F slats: shading and reduction of thermal bridge risks
Type C slats are a compromise, as they can be tilted both ways. They can be shut in summer to provide more shading or tilted in winter to redirect the rays to anywhere within the interior, from ceiling to the floor. We recommend combining the C variant with buildings of finer shapes.
Type F is another type that is suitable for tilting both ways. Compared to type C, type F slats are flatter and look more subtle on the house. Their packet is even thinner when retracted. Both variants can therefore be concealed in a lower-profile case below the mortar, reducing the facade area with sub-optimal heating and thus preventing thermal bridges, which cause interior temperature fluctuations.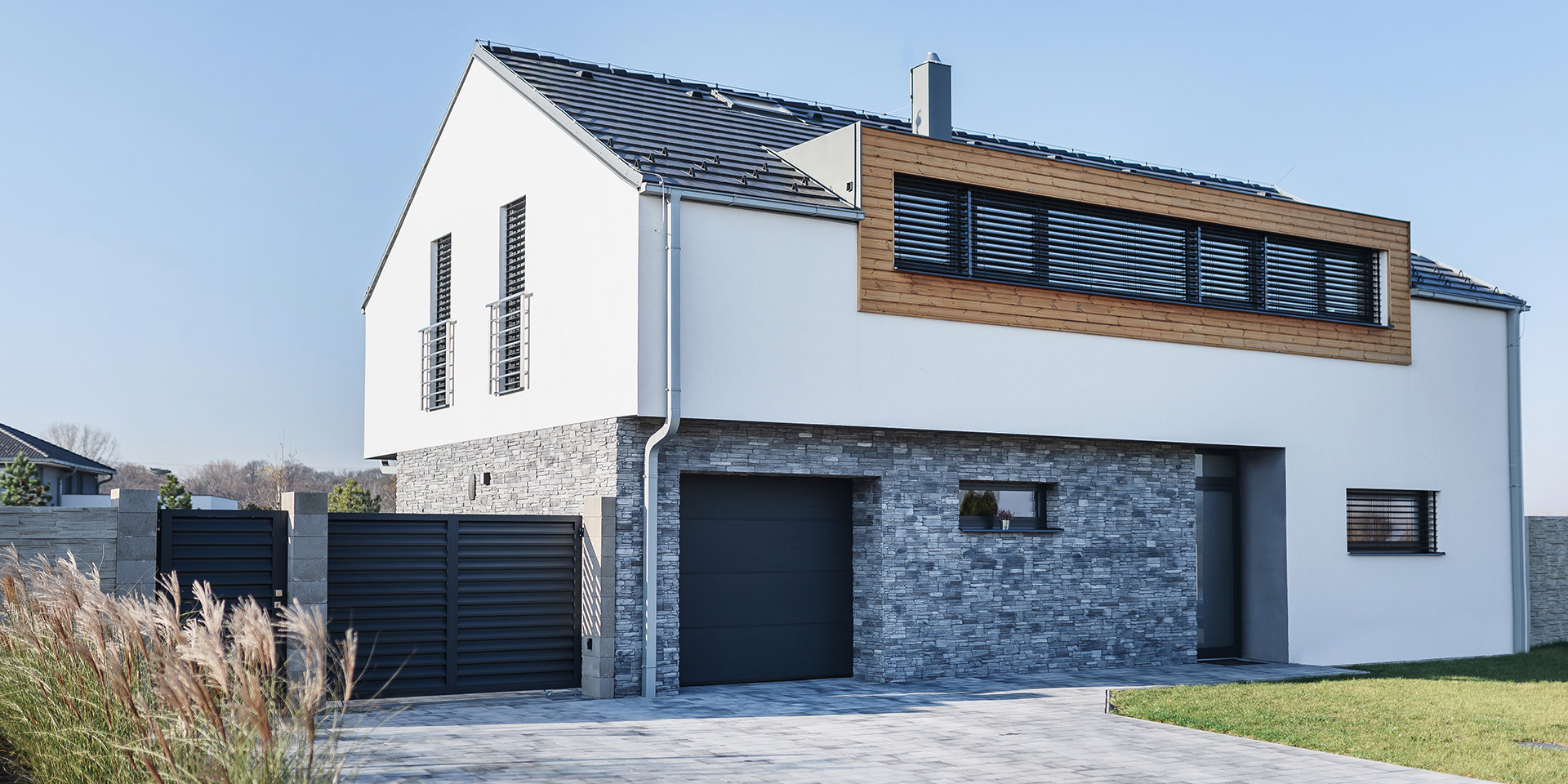 If you apply in 2021 for an external shading grant under the New Green Savings programme, you get up to CZK 1,000 per square meter worth of blinds controlled by a smart automated system.
If you're planning to build a passive house with external blinds, contact one of our vendors. They will be happy to provide a live demonstration of the benefits of the individual solutions.
---
---