External blinds or roller blinds? Learn about the advantages and disadvantages of both solutions.
When selecting your means of outdoor shading, you are likely to be torn between external blinds and roller blinds. What is the difference? What situations call for external blinds and when is the time to choose roller blinds. We have answered these questions in the article.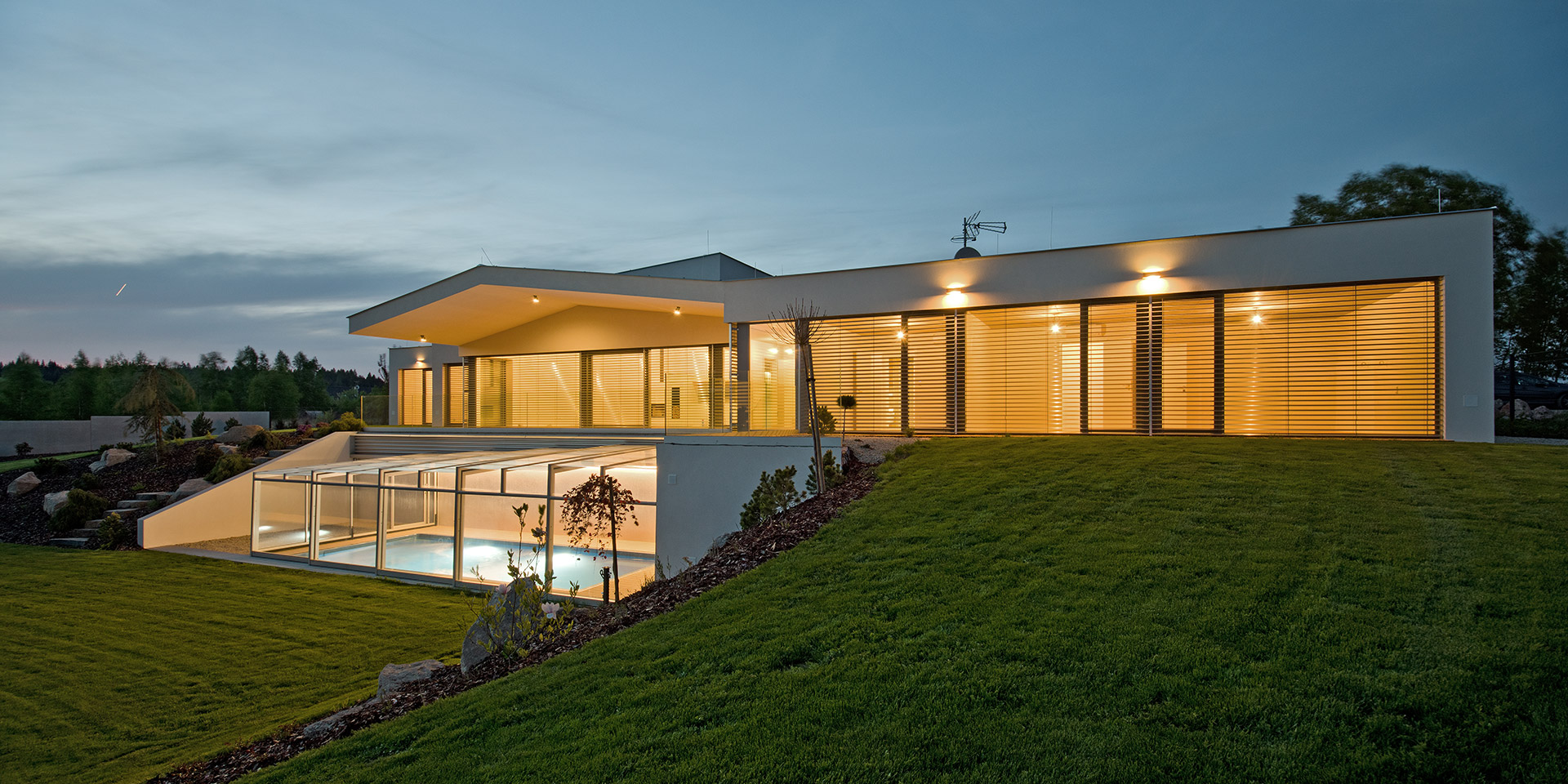 External blinds are better at regulating light, while roller blinds are better at noise insulation.
The most significant difference between roller blinds and external blinds is the ability to regulate sunlight:
Slats of roller blinds are firmly connected with a lock, which means they cannot be tilted. The amount of light can only be regulated by raising or lowering the roller blind.
External blinds have slats connected by ladders, meaning they can be tilted as required to regulate the light in the room. And just like roller blinds, external blinds can be raised or lowered.
Roller blinds have the advantage of having slats fit into each other perfectly when lowered completely, creating absolute darkness, which can come in handy if you, for example, work night shifts and sleep during the day. They are suitable for rooms you want to shield from light, such as bedrooms or technical rooms. Because of their good sound insulation qualities, they are also a good option for windows facing a loud street.
External blinds do not create perfect darkness when closed, although blinds with type Z or S slats come quite close to roller blinds. However, their ability to regulate light makes them suitable for living rooms, general social rooms or windows facing southwards.
Both external blinds and roller blinds are resistant to wind.
External blinds and roller blinds resist wind and rain very well. For example, our blinds resist winds at speeds of up to 88 kph. Moreover, they can be fitted with wind sensors, which can register unfavourable weather and give the blinds a command to retract into the case.
However, for mountain lodges or houses at higher elevations exposed to stronger winds, we recommend opting for blinds, which can resist very strong gusts of wind thanks to their slat fixation.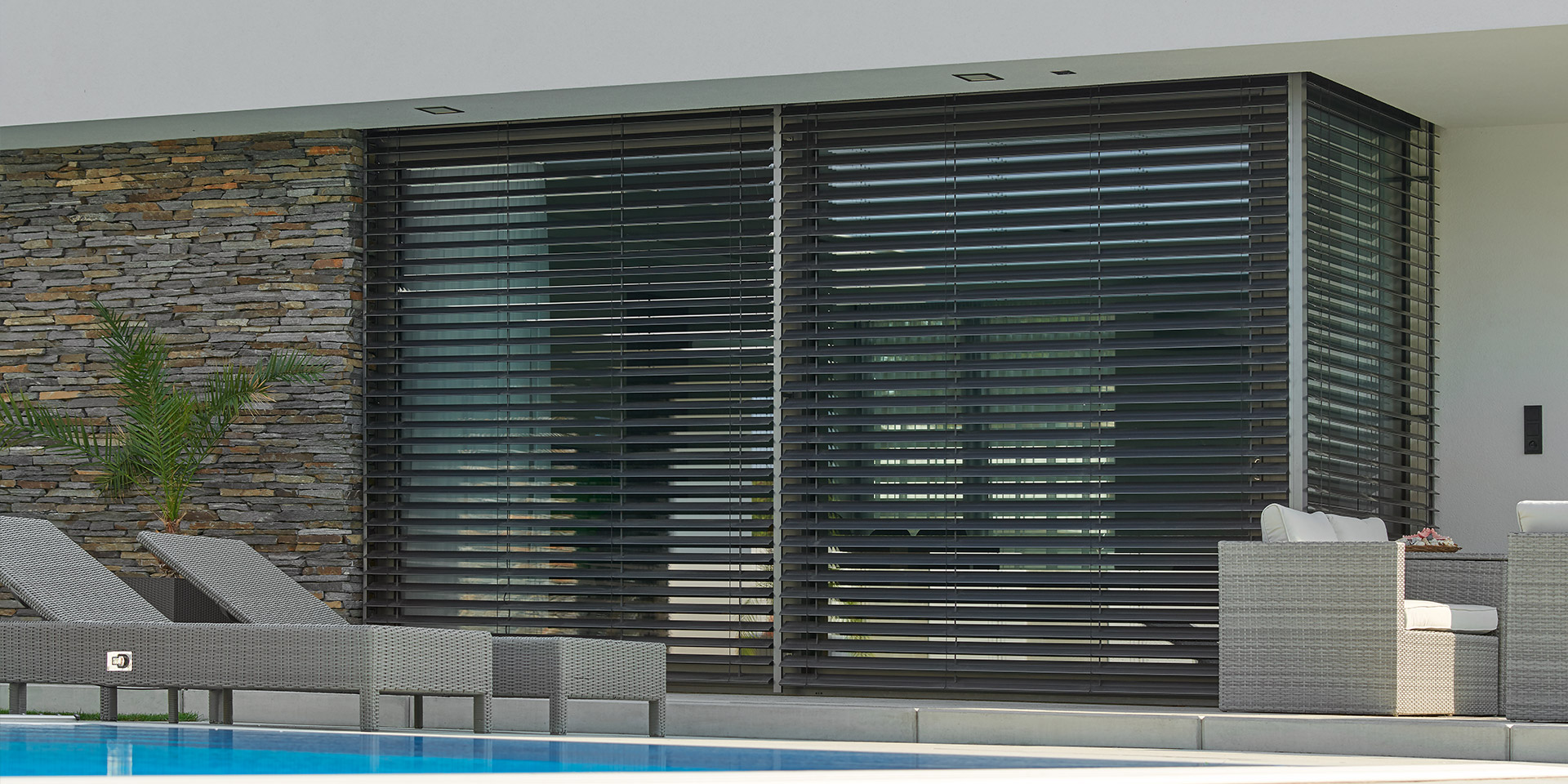 Energy savings are comparable.
From the standpoint of interior cooling, both types are equally efficient – sun rays are stopped even before they get into the interior, meaning the temperature in your house is reduced by up to 10 °C during the summer. Thanks to this, both external blinds and roller blinds will save you A/C costs.
Both shading types also work as partial thermal insulation, cutting your heating costs during the winter.
Both external blinds and roller blinds provide privacy.
In addition to shielding the house from excess light and keeping it cool, sun shading improves privacy, especially if your house is situated on a busy road, from which passing strangers could potentially see inside your house.
Exterior roller blinds, once lowered, create a continuous surface which is impossible to see through from the outside. Additionally, dropped blinds pose at least a basic obstacle for burglars, reducing the risk of a break-in.
External blinds can also provide some privacy if tilted properly. For example, C‑80, C‑65 or F‑80 blinds can be tilted both ways, meaning you can set them to an angle that makes it impossible for anybody to see inside the house. However, they are not quite joined in a continuous surface and someone can still lift them up to peek inside if they can reach the window.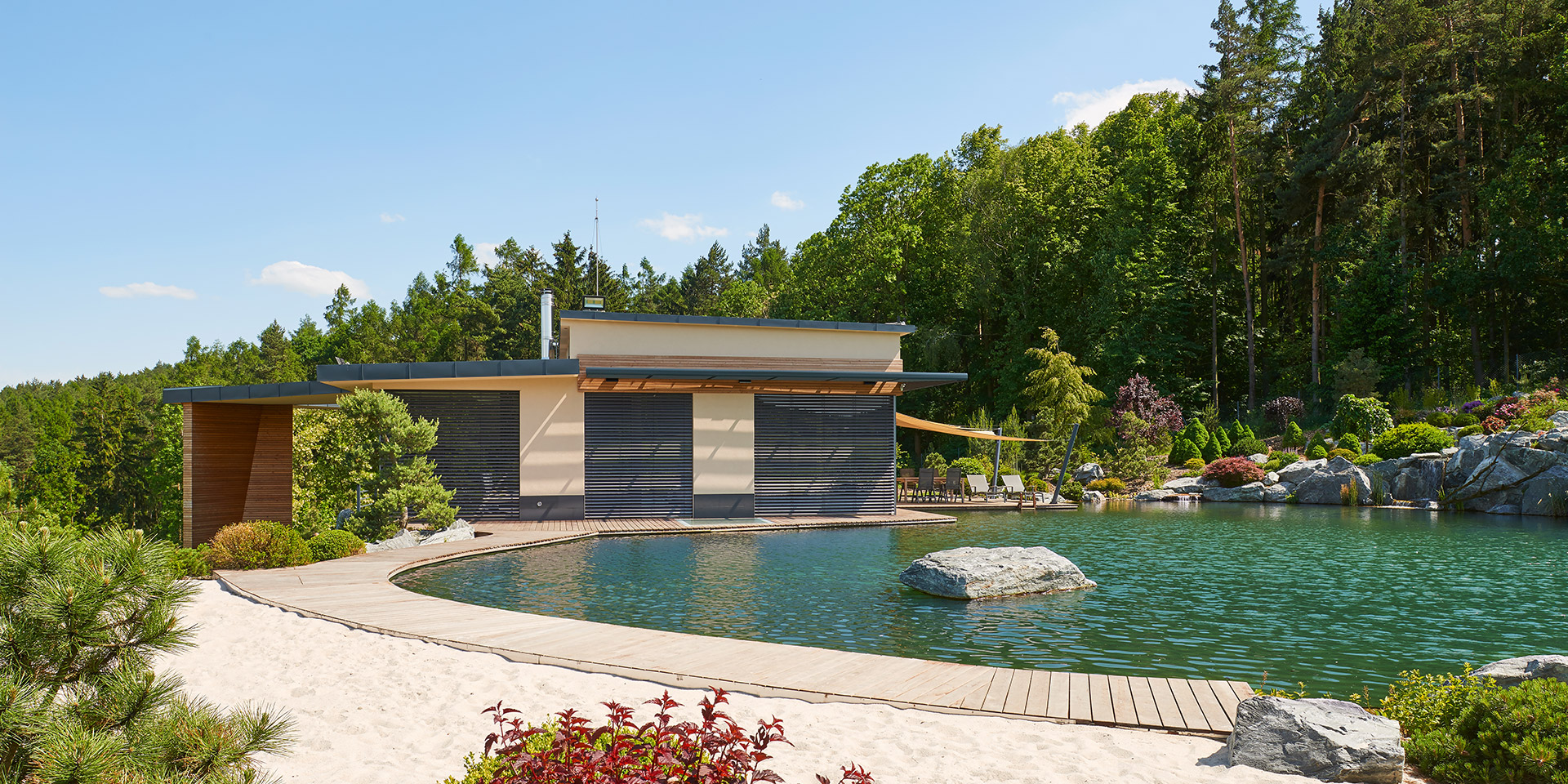 They are the more popular option in terms of design.
Even though design is always subjective, today's architects tend to choose external blinds. Slats with a metal design look good on both modern and historical buildings, and they are available in all colours of the RAL colour chart and several surface finishes. Moreover, there are multiple slat types, allowing you to use, e.g., the more technical Z‑90 for larger windows and the more delicate C‑65 for smaller windows.
For roller blinds, material matters greatly. For example, the more affordable plastic variants can look cheap and are not quite for everybody.
Is it suitable to combine rollers and blinds?
House owners who care a lot about sun shading sometimes look for combinations of external blinds and roller blinds on the same house.
"Such solutions are certainly viable. In a living room, for example, I would always recommend louvre blinds so that the light can be regulated, while roller blinds are better for a bedroom, as they provide better shading and noise insulation. However, try to respect the design of the house. For example, I would recommend using the same shading type for one wall (and combine it with internal shading, if required).""
Whether you choose external blinds or roller blinds, always take them into account in the design of the construction or re-construction. You should also contact a professional company to have them install the screening for you.
---
---