How to select and maintain insect screens?
Do you love long summer evenings, but can't really open your windows because of all those pesky insects? Install insect screens. We have listed the most common variants, along with instructions on how to clean them easily and winterize them.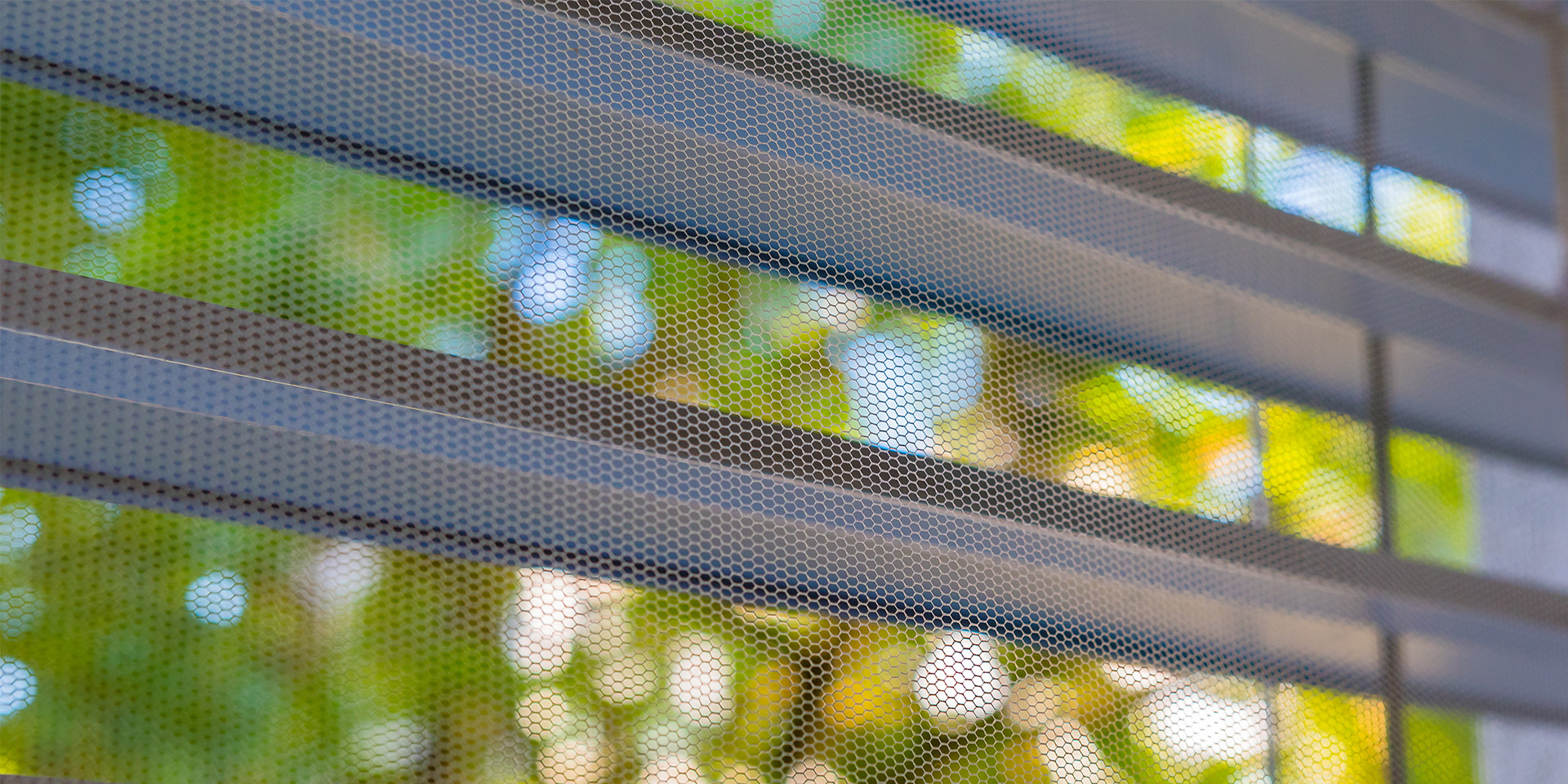 Match your screens to your window frames
Prior to purchasing the screens, invite an expert to your house to have them advise you on your selection and measure the window frames precisely. The frames are rarely perfectly straight, which is why they are measured at the top, middle and bottom. During the consultation, ask the expert about the maximum and minimum screen sizes they can deliver. Tailored screens are required for narrow windows of sky-lights, pantries and garages.
"Many companies offer the first consultation and measurement free of charge. During the consultation, installers recommend a screen type and consult the colour chart to advise you how to finish the screen frames in order to make a good match with your window frames. Thanks to this, you will never be uncertain about the details and won't have to resolve anything by yourself.""
If you want a good view from the window, select a black or dark screen surface. White screens, which are harder to see through, are suitable for bathrooms, for example.
When selecting a screen type, consider how frequently it will be moved.
There won't be any issues when installing screens on windows with internal shading. For external blinds or external roller blinds, roller insect screens are ideal. At NEVA, for example, we make roller insect screens both separately and integrated into external blinds as a part of the STF self-supporting system.
If you like looking out of the window or have flower pots on your window sills that you water every other day, adjust your screen type selection accordingly. For example, you can opt for rolling or sliding screens if you have flower pots on your window sills.
What screens are the most common on the market?
There are several insect screen types on the Czech market. A suitable variant can be selected based on frame strength, means of opening or the area around the window. When purchasing insect screen materials, request the manufacturer's information on the material. Screens made of plastic-coated fibre glass or aluminium are the strongest but lack flexibility. If you want to protect your household from pollen, look for reinforced net materials.
Fixed insect screen with aluminium frame
Consisting of an aluminium frame with a net stretched over it, this variant is suitable for virtually any window type. Manufacturers do not hesitate to make them for atypical windows. These are recommended for less accessible upper floor windows or places where the screens are not moved as often. Fixed screens are available in the following material variants:
Fibre glass is strong, non-flammable and does not lose its colour when exposed to sunlight. Metal screen materials are very strong, but do not revert to their original shape if deformed. Their ends do not fray and are very hard to tear. On the other hand, polyester nets are the cheapest. They are recommended for temporary installations due to not being that durable.
Fixed screens are optimal for traditional Euro windows. Thanks to their design, they have no issues with protruding window hardware or drip ledges on the window frame. The individual parts of the aluminium screen frame are connected by inner couplers and available in the same colours as window frames. Once installed, the fixed screen covers a part of the window frame and does not interfere with its appearance. Fixed insect screens are attached to window frames using
or spring-loaded holders.
For balcony or terrace doors, insect screens are typically mounted using self-closing hinges with magnetic locking. It is very easy to add a dog/​cat flap.
The advantage of fixed screens is that they are easily protected against freezing weather. Before winter, simply remove them, clean them and store them, e.g., in the cellar. This can extend their life span by several years. Their disadvantage is that they are relatively difficult to remove and cannot be rolled up or opened in any way (with the exceptions of screens with self-closing hinges).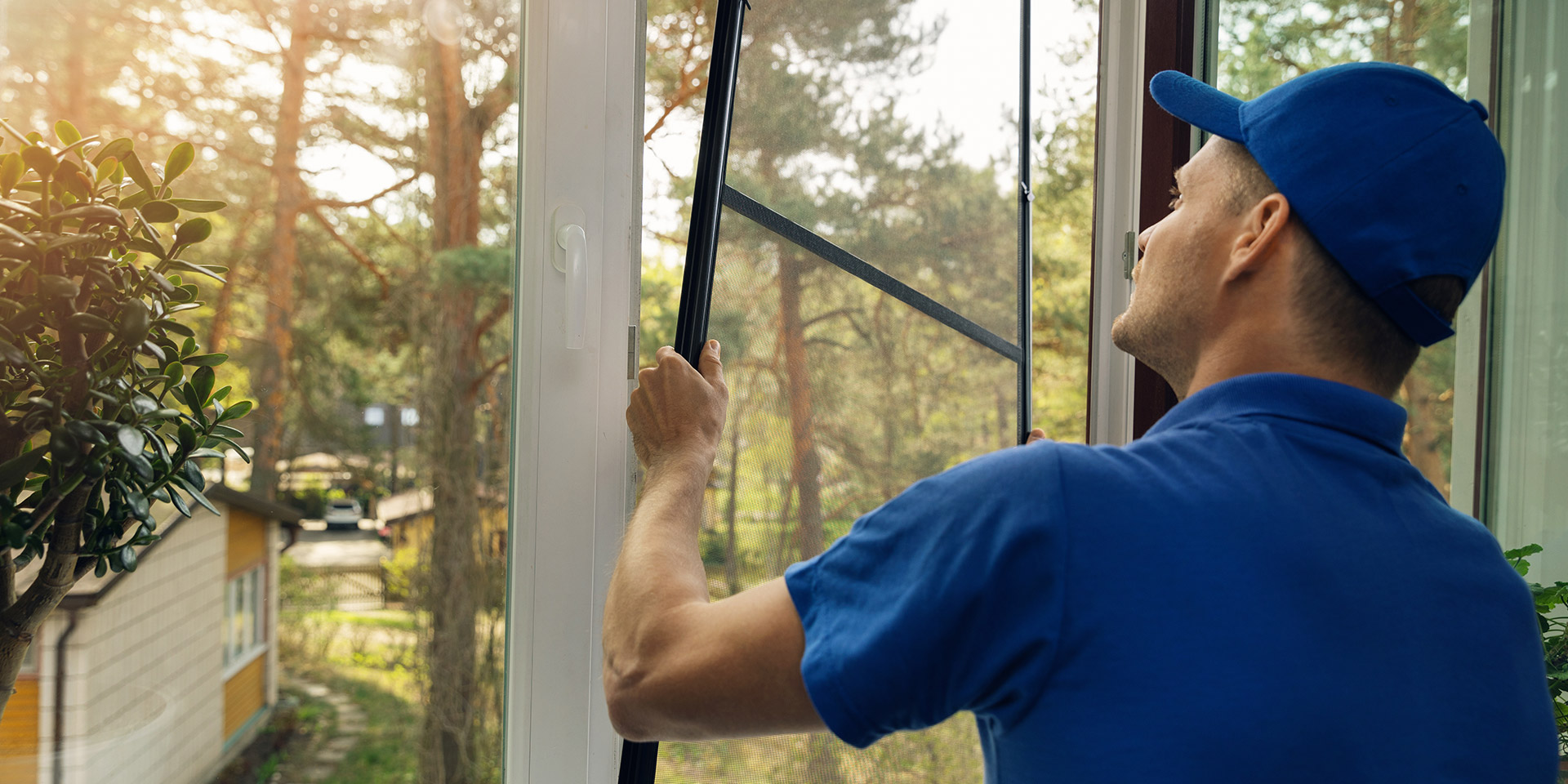 Roller screens are wound onto spring-loaded aluminium shafts, which are concealed in a protective box. This way, you can pull the screen in or out, similar to a roller blind. The movement of the screen is led by guide rails on the sides. At NEVA, roller screens are made both separately and in combination with external blinds. When combined with external blinds, the screens are led in separate guide profiles within the STF system. The screen circumference and the end rails are fitted with sealing brushes to prevent insects from getting in through small openings.
"Roller screens within the STF system made by NEVA have their own guiding rails, meaning they can be pulled in or out as required and independently on the blinds," explains Jan Gajdoš.
At NEVA, we use a stronger material based on fibre glass, which is PVC-coated, resilient and does not change colour over time. The screens are made with resilient handles (so that they can handle frequent movement) and screens for tall windows are made with cords.
You don't have to be concerned about winterizing the roller screens – simply retract them into the box, where they will be safe over the winter.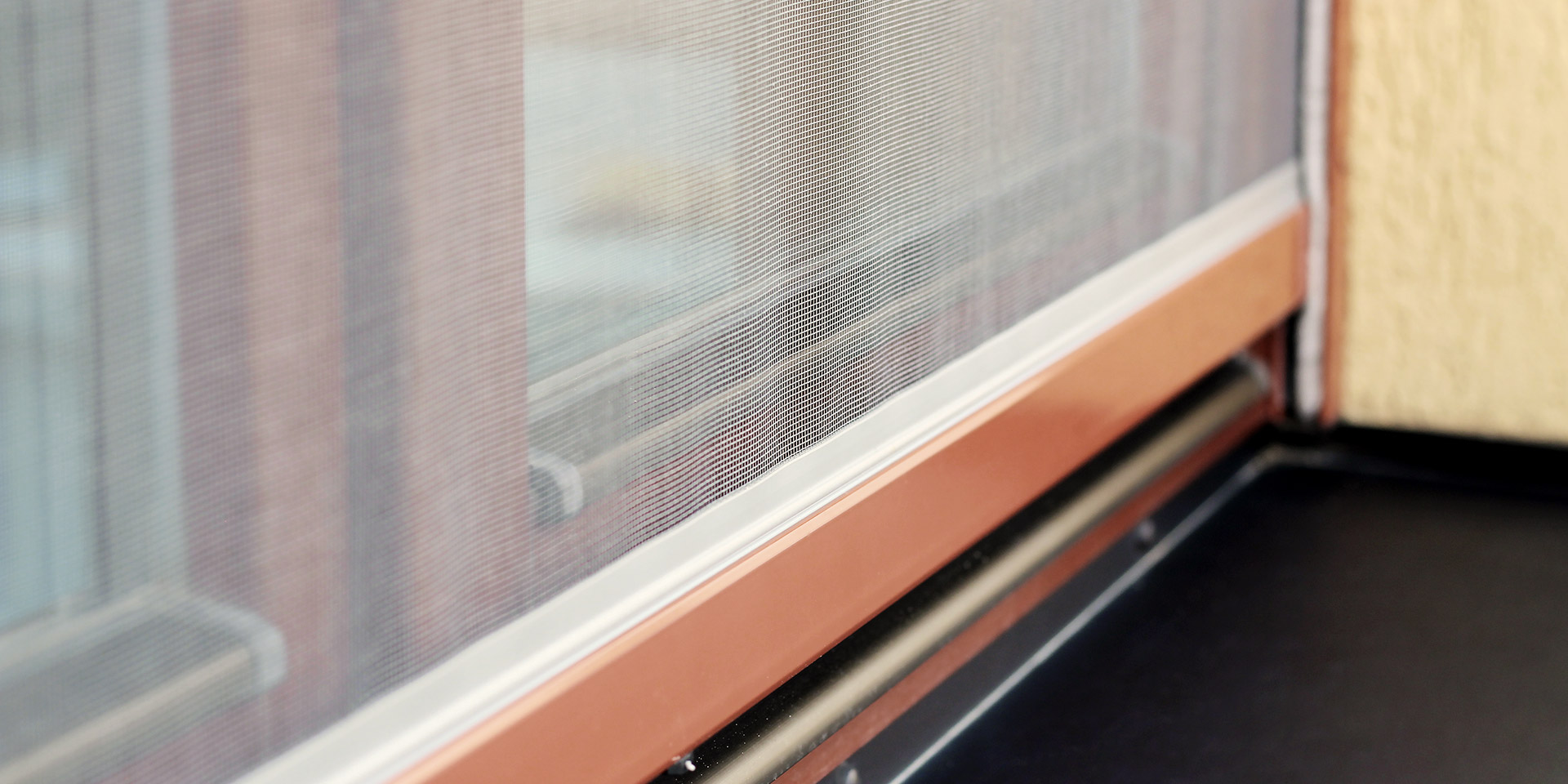 Sliding insect screens are popular for large and French windows, because they slide using lower and upper sliding rails and always only cover the window or door that is handled frequently. They will come in handy with busy terrace and balcony doors and dog/​cat flaps are easy to install.
Sliding insect screens are very quiet if installed correctly. They are also easy to maintain. The sliding screen material is most commonly made of plastic-coated fibre glass. If you intend to store them away for the off-season, consult an expert company on how to take them off the rails safely.
Pleated insect screens for windows and doors fold like a harmonica as you use a handle to move them on a rail. They are primarily used for large French windows and doors. They are typically moved vertically on windows and horizontally on doors. The pleated screen folds into a small stack, which takes up almost no space.
Among pleated insect screens, we recommend those with aluminium components and frames, which are more resistant. Modern pleated screens are reinforced with Kevlar fibre, which makes them very resistant to water and UV radiation and increases their tensile strength. You don't have to store them away – simply fold them up.
For doors and French windows, the advantage of pleated screen is in the low-profile sliding rail within the floor. Its installation does not create a significant sill, which makes this screen type suitable for barrier-free homes and families with small children.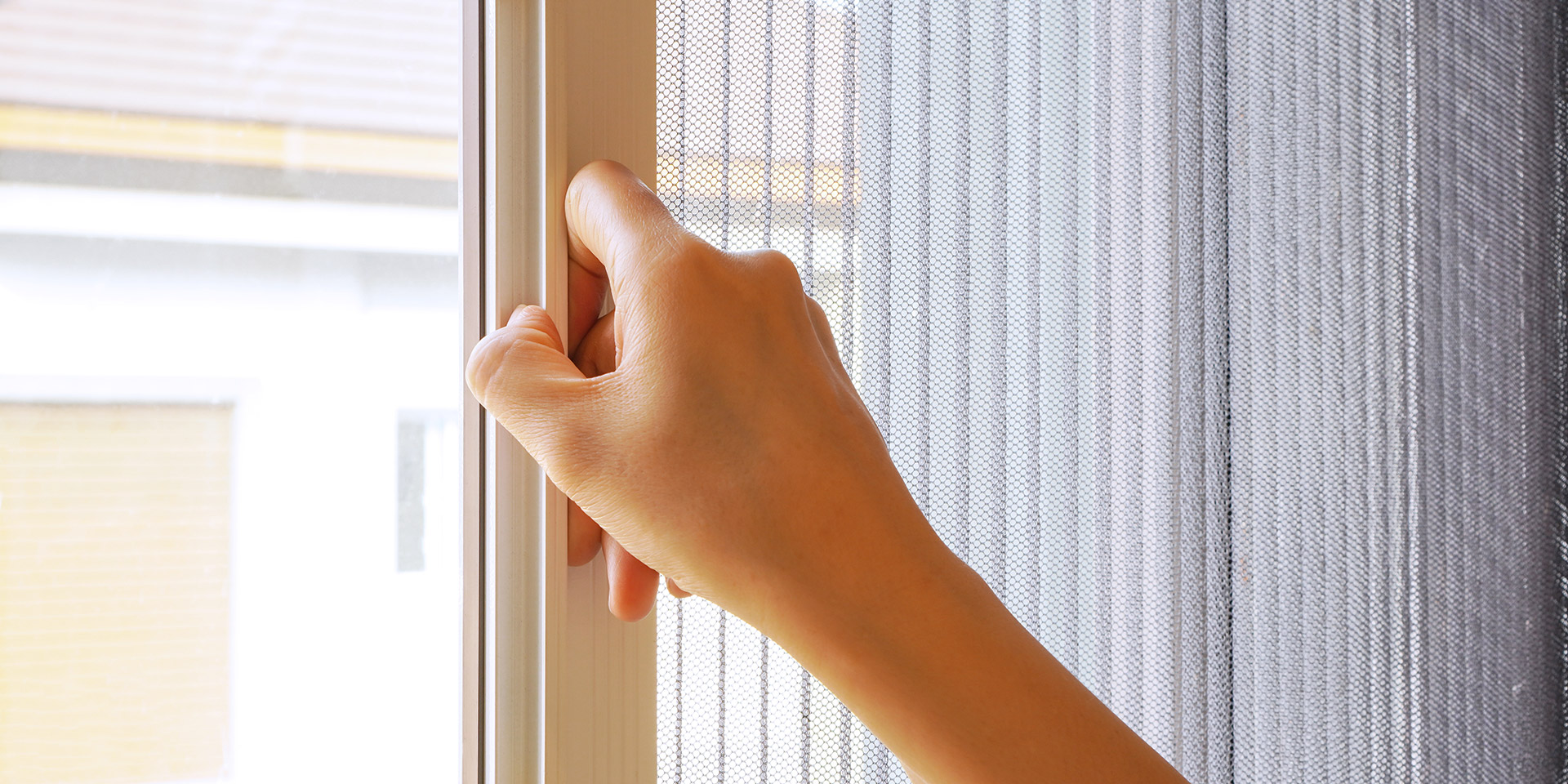 Screens with magnets or Velcro
Attached onto window frames using Velcro fasteners, these are a popular variant, as well as the cheapest one. Unfortunately, they are also the least reliable, as the Velcro fasteners tend to peel off and/​or wear off rather quickly. Moreover, they need to be replaced after one or two seasons, as the glue does not hold up in changing weather, which is detrimental to the alignment of the screen.
The screens are available in
However, Velcro screens also have their advantages – they don't require an expert to install and are suitable for small windows, including windows of caravans and other habitable vehicles.
With a band of magnet fasteners in the middle, this screen is useful for frequented terrace and balcony doors. The magnets separate as you pass and re-attach behind you. However, the magnet connection is not entirely impregnable, meaning some insects will get through from time to time.
Maintenance and winterizing insect screens
All insect screens can be cleaned using a hoover, a damp cloth and a soft brush. If the net is dirty, start by hoovering it with a brush adaptor. Afterwards, clean it with soapy water using a damp cloth or a soft brush. And finally, wipe it clean with a damp cloth and leave it fully extended to dry out.
"The cleaning of the screens
can be combined with their regular maintenance
. Vacuum the screens and wash them along with the blinds using a garden hose or a pressure washer. Afterwards, apply a soap agent as required and wash all the dirt off along with it. Use the lowest possible pressure to make sure you don't damage the blinds and screens." "
Any removable screens should be winterized. Fixed and sliding screens are to be placed in wrapping paper and kept in a dry place – preferably lying flat in order to prevent deformation. Velcro screens are to be folded several times (without pushing onto the folds) and stored in a box in a dry place.
Do not hesitate to consult the combination of screens and external blinds with our partners. They will be happy to provide a practical demonstration.
---
---