NEVA external blinds under the microscope: what components do we use and why?
In addition to slats or motors, the quality and service life of external blinds are also affected by small components – for example, lift tape, ladders, metal ladder connections, slat hooks and guiding pins. Read what components we use at NEVA and how it affects the quality of our products.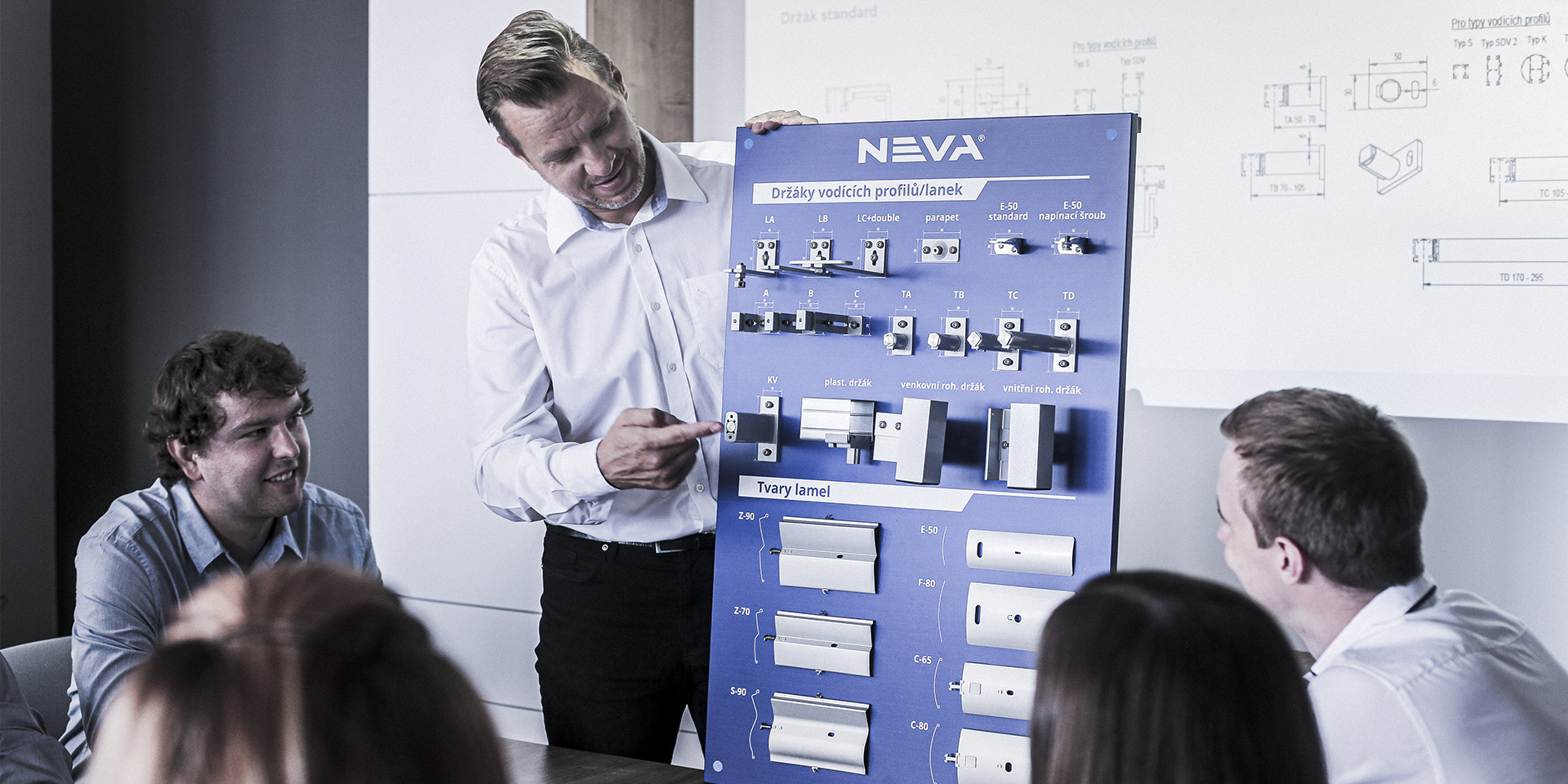 Lift tape: ours has 8 mm and originates from Switzerland
A lift tape is a critical component for external blinds. It is threaded through every slat and until the blind is completely lowered, the entire weight of the packet (i.e. the whole bundle of slats) hangs on it. For this reason, the tape is usually one of the first things that needs replacement or servicing.
The width of a tape is an important (but not the only) quality indicator. Most manufacturers of external blinds still use rather thin 6‑mm lift tapes, 8‑mm tapes can only be encountered exceptionally.
We at NEVA use 8‑mm tape by a Swiss supplier, which based on tests features up to three times superior tensile strength than comparable competitive products. In addition, we round the holes in the slats through which the tape passes to prevent the tape from being cut by the sharp edges. This will extend its service life even more.
Guiding pins: metal ones are of higher quality, plastic ones are easier to service
The guiding pins hold and guide the slats in side guiding rails. Metal pins are of superior quality and resistance. However, when servicing or replacing them the fitter has to dismantle the blind. By contrast, plastic pins have a shorter service life yet they facilitate and speed up servicing as they can be simply snapped out and replaced.
That is why we have opted for a compromise at NEVA – we make Z and S blinds with metal pins, C and F blinds with plastic pins because the "Cs" and "Fs" are ideal for shading office buildings, where you will appreciate faster, cheaper and easier servicing.
In addition to the material, the shape of the guiding pin is important too. We make use of what is called an elliptic pin, which completely fills up the space in the guiding rail with the blind being completely blacked out, thereby fixing the blind strongly. As a result, the blind is quieter in windy conditions.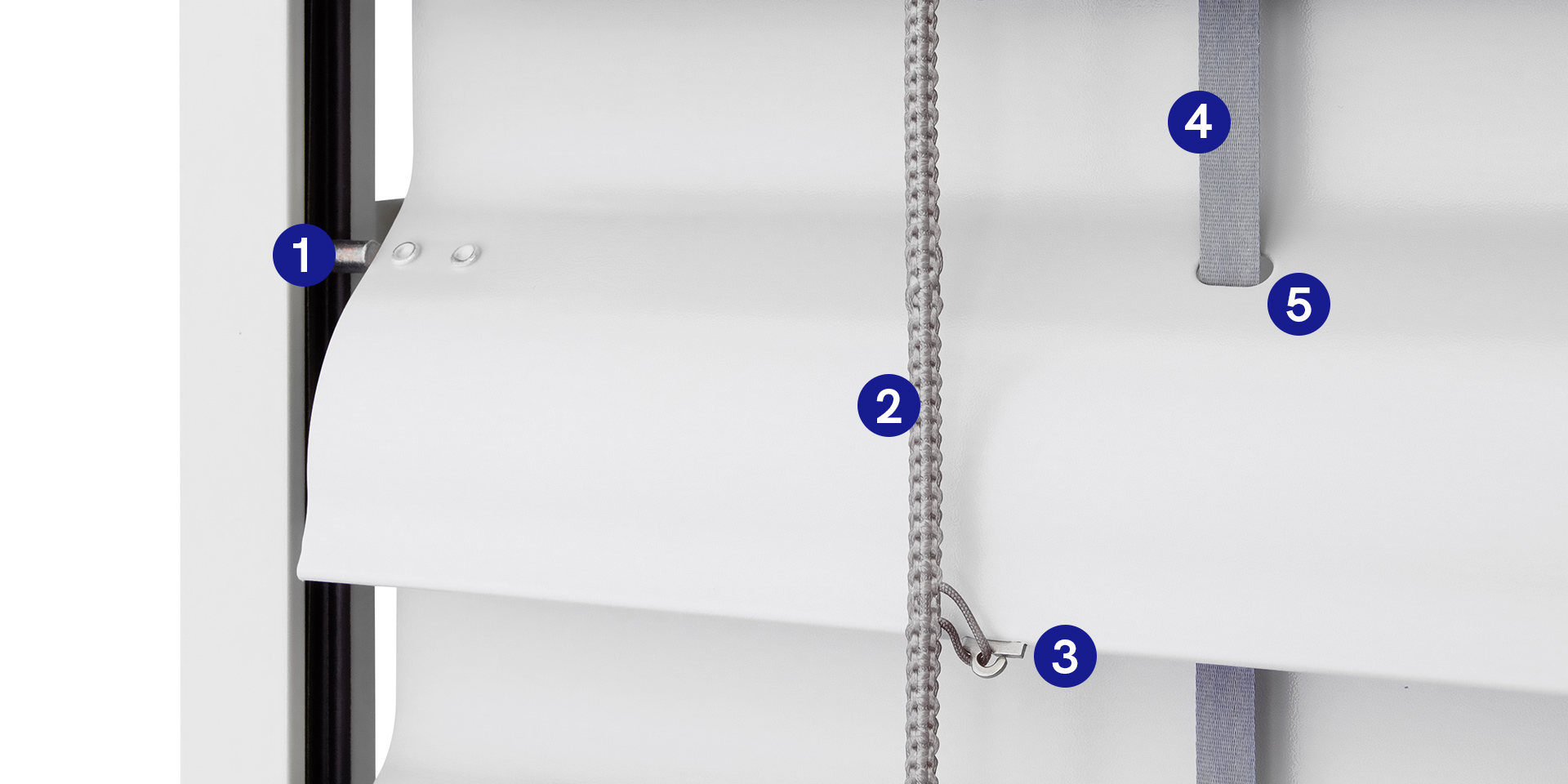 Ladder: a material that is reinforced by Kevlar
The ladder is another important component of external blinds. Its function is to tilt the slats and, thus, it faces great strain. Therefore, we use a ladder reinforced with Kevlar fibre. This extremely resistant fibre is used, for example, for fire-resistant clothing, bullet-proof vests and reinforcement of tyres and we dare say that it is one of the most resistant in the global market.
The material of the ladder connection is of importance as well. A plastic connection may be cheaper but it is also much more sensitive. That is why we use metal connections of stainless steel that are more resistant.
Our slat hooks cannot virtually be pulled out.
Although the slats of external blinds are only 0.4 mm thin, a small hook is fixed on the edge of each of them that holds the ladder. Therefore, it is necessary that the manufacturer has high-performance roller raceways that will make the ladder sufficiently flat.
At NEVA we invest massively in roller raceways and our machines from ZEBR rank among the best in the market. We have conducted a destructive test specifically with respect to slat hooks, and they cannot virtually be pulled out. You will rather have the ladder broken than the hook pulled out of the slat.
---
---