Fabrics of textile screens: what are they and what are they made of?
External textile screens resist sun, wind, rain and frost very well. This is mainly due to the material from which they are made. While screen roller shutters made of glass or polyester fibre coated with a layer of PVC have a commanding position on the market, you can also find fabric roller shutters without PVC. Let's discuss the material of screen roller shutters in greater detail.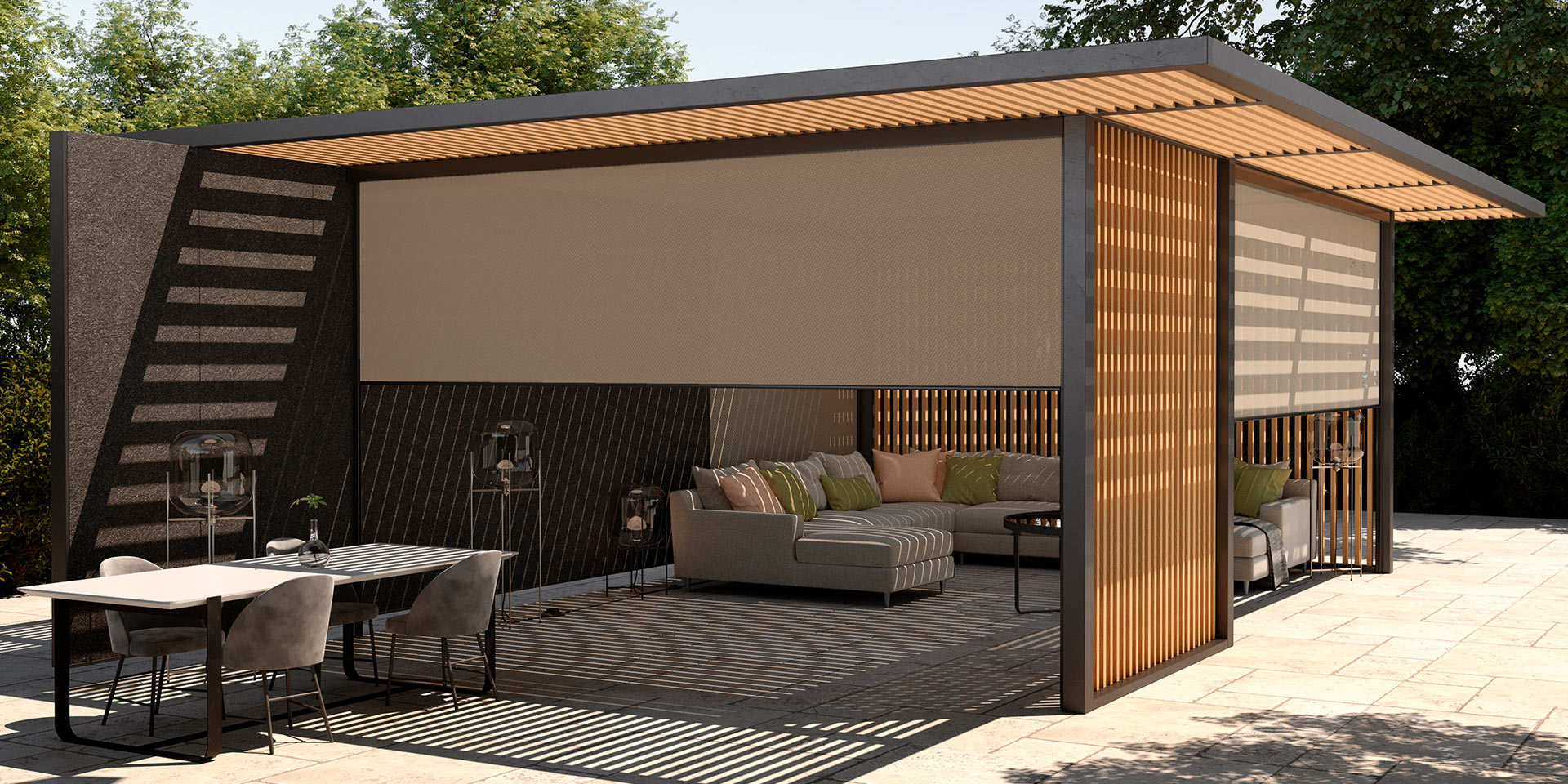 Original screens: polyester fibre + PVC
The original external textile screens (also referred to as "vertical screens" at one point) are made from a fabric called screen. This is also where the word "screen" in textile screen originates from.
The basis of this fabric is polyester (PES) fibre coated with a PVC layer. The screen is first woven from bare PES fibres and then coated with PVC – softened polyvinyl chloride. The finished screen therefore looks almost like a solid surface, as most of the seams in the woven fabric are painted in and do not show through.
In our range, you can find this type of fabric under the trade name Soltis. Specifically, we offer the type Soltis Perform 92, which is described by the manufacturer Serge Ferrari as the textile screen with the best thermal regulation properties in its range. However, the company also produces other types, such as the Horizon 86, Harmony 88, Master 99 and Opaque B92. Don't be fooled by the numbers — they don't denote the fabric's permeability, it's just a product name.
Other manufacturers of this type of fabric include Mechoshade, Phifer, Vertilux, Alkenz, Bestex, Verosol, Bandalux (Vertisol textile screen) and Loncar.
Main advantages and disadvantages of polyester fibre:
+ Time-tested over decades
+ Very tear-resistant
+ Highly elastic, stretches/​shrinks slightly with exertion and then returns to its original shape
– Less resistant to extremely high temperatures
– Has a slightly shorter lifetime than fiberglass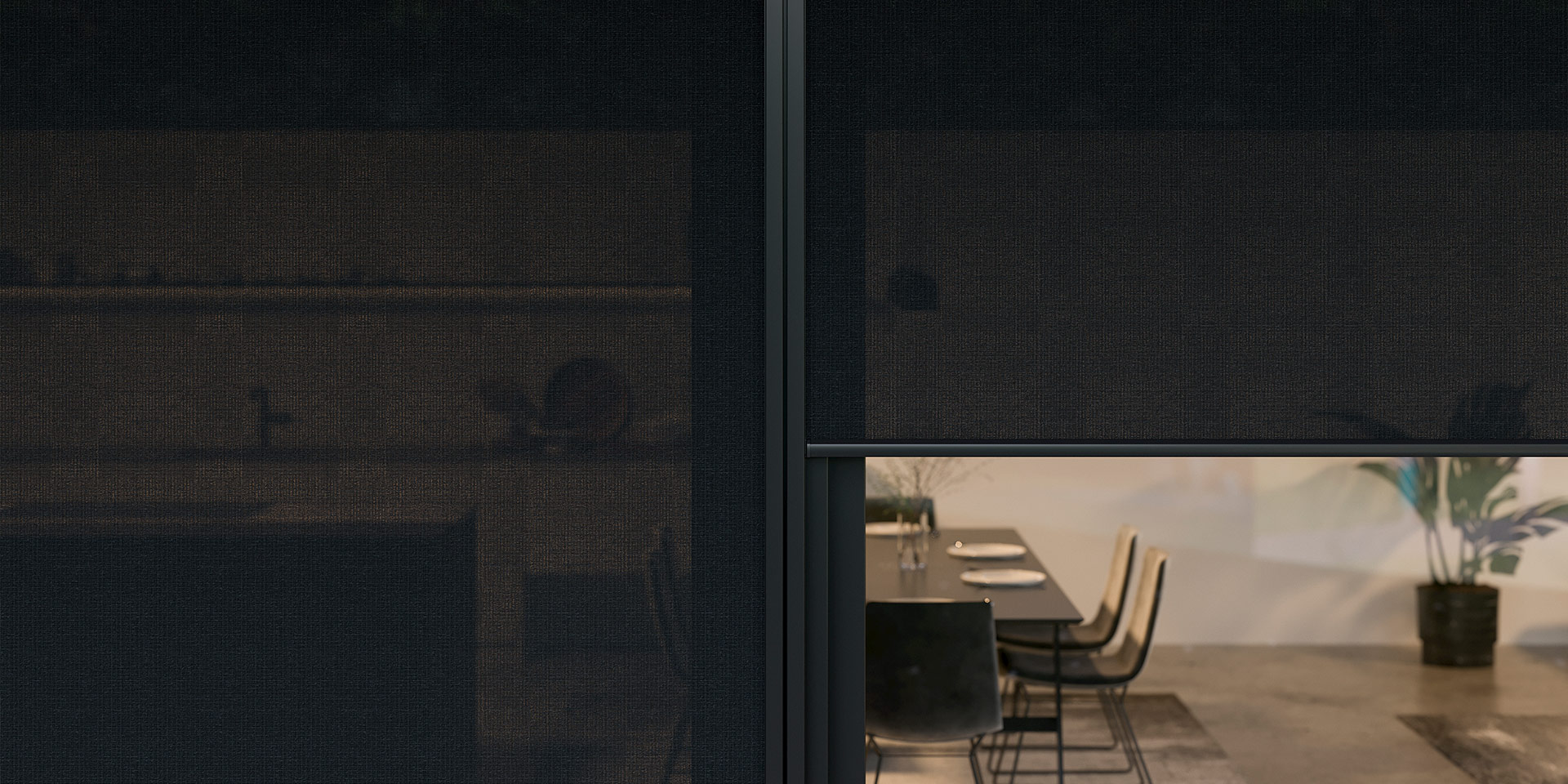 PVC-coated fibreglass fabrics
Screens made of fibreglass coated with a coloured PVC layer are also popular today. In this case, the individual fibres are coated before weaving, after which the fabric is not treated further. The finished screen is therefore more like a dense mesh and the miniature mesh segments shine through.
In our range, you can find this type of fabric under the trade name Sergé and it is supplied by the company Helioscreen. Specifically, we offer the type Sergé 3%. Helioscreen also offers PVC coated fibreglass fabrics called Scala and Staccato.
A well-known representative of this fabric is also Satiné. Other manufacturers include Mermet, Phifer and Copaco.
The main advantages and disadvantages of fiberglass
+ Very resistant to high temperatures
+ Non-flammable
+ Slightly longer service life than polyester fibre
– it is more fragile than polyester
– not as elastic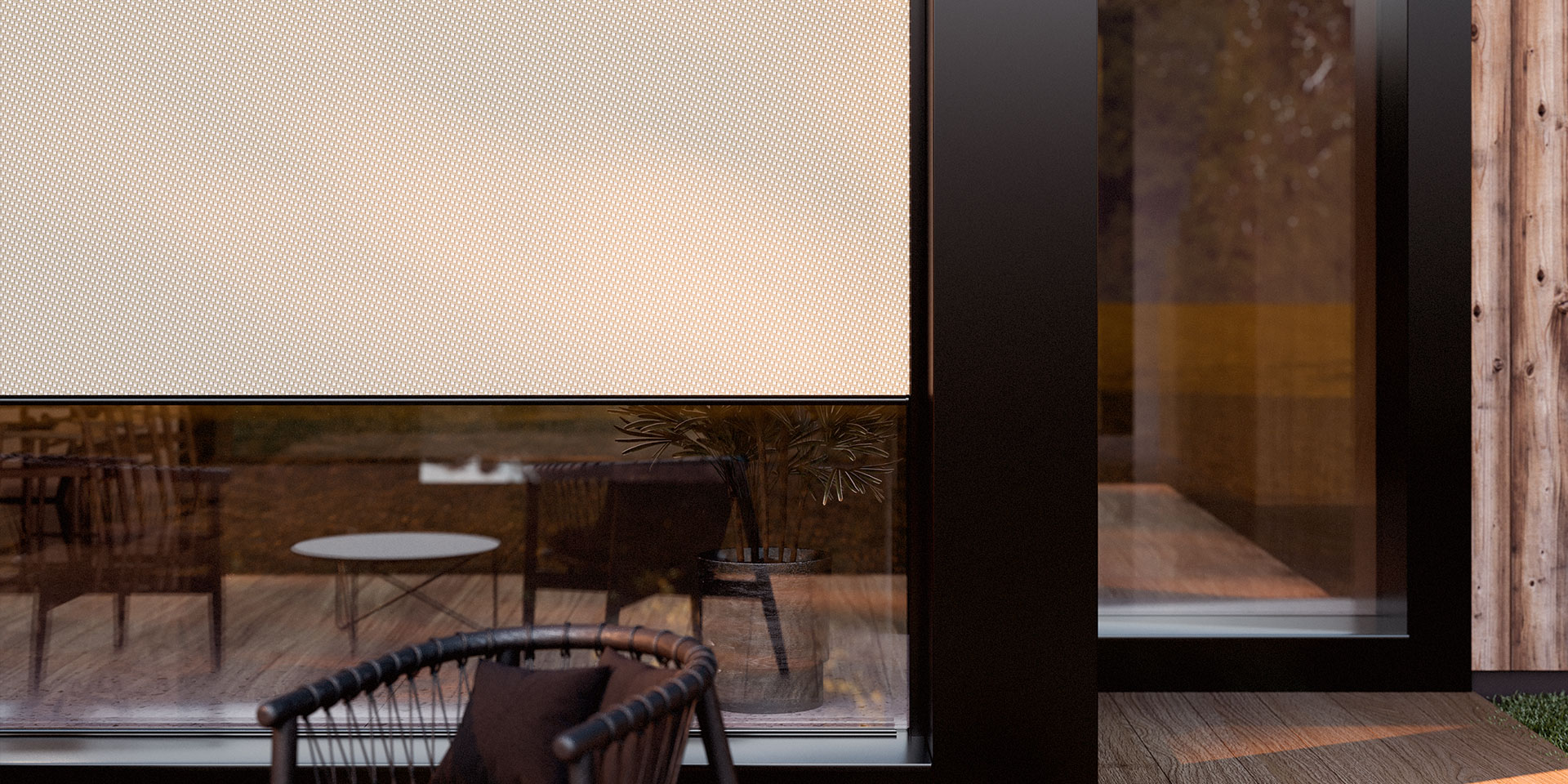 The development of screen fabrics is constantly advancing, which is why today you will also find, for example, fabrics called Screen Nature. These are made of 100% fiberglass and are no longer coated. They do not contain PVC, polyester or halogens and are therefore more environmentally friendly.
However, it should be noted that the PVC layer on textile screens is a key factor that increases the durability and longevity of the product. We are therefore curious to see how Nature fabrics will hold up in practice, especially in harsh climatic conditions. You won't find them in our range yet.
In recent years, manufacturers of fabrics for screen blinds have also experimented with other materials, such as acrylic fabrics, which are commonly used for awnings, for example. However, they have not yet made any significant inroads.
The most important things are transmittance and the openness factor.
If you're choosing a textile screen and don't know whether to choose glass or polyester fibre, rest assured – the real differences between the two are minimal. The textile screen is very durable in both cases, the only noticeable difference is in the design, with the PES fibre textile screen forming a more compact surface and the glass fibre screens looking more like a fabric.
A much more important parameter when choosing a textile screen, for example, is the light transmittance of the fabric, which determines how much the blind darkens.
The strongest black-out fabrics have a transmittance of 0 %,

strongly darkening fabrics from 1 % to 22 %

and slightly darkening fabrics from 23 % to 40 %.
The openness factor, which determines how well you can see out through the blind, is also an important parameter. The higher the factor, the better the view out. The openness factor is usually between one and ten percent.
And if you'd like to see the screens in person, make an appointment with one of our dealers.
---
---