External vs. internal blinds: where do they fit and can they be combined?
Outdoor blinds have several objective advantages compared to internal blinds. On the other hand, there are situations where internal blinds are a better solution; we provide a comparison of both types of shading and how to combine them.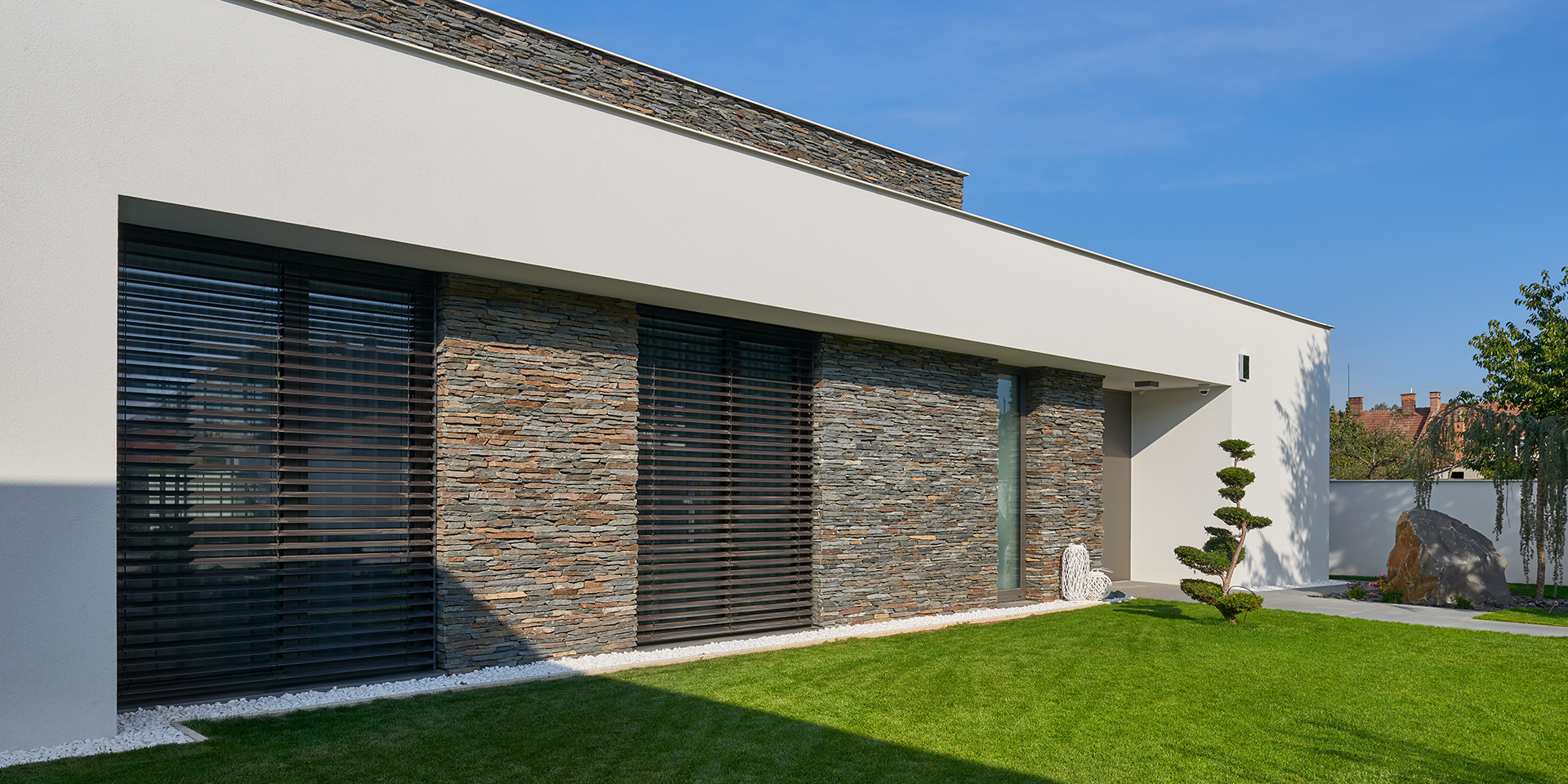 The main advantage of external blinds is that they reflect the sun's rays even before they enter the room and heat it up unnecessarily, leaving a pleasant temperature even during summer.
However, interior blinds absorb the heat after it gets into the room, heating up themselves and the interior in turn. A part of the heat is reflected towards the window, resulting in additional heating and a further increase in the temperature in the apartment or house.
Interior blinds are cheaper, while external ones are higher quality
Price is often the reason people choose interior blinds – they are typically quite a bit cheaper, which makes them suitable for utility rooms, bathrooms, lavatories or laundry rooms, where the greater investment would not make much sense.
By the same token, interior blinds lack durability, often suffering from weak points in the form of plastic components such as chains, control rods or couplers. High-quality internal blinds last about 10 years, while lower-quality ones tend to fall apart shortly after their warranty has expired.
In contrast, external blinds are stronger, typically being made of aluminium and stainless steel, which gives them greater durability – typically decades. For example, our NEVA blinds are fitted with 8mm textile tapes (as opposed to more popular 6mm tapes) and are made of premium Swiss or German components, prolonging the durability even further.
Where to use which blinds?
Due to their strength and quality, external blinds are suitable for:
Residential house windows
Administrative buildings
Apartment complexes
Large glazed surfaces
Conservatories
Conversely, they cannot be used for high-rise buildings with glass façades or roof windows, as there are no points to attach the blinds in such cases.
Interior blinds are more suitable for smaller or roof windows and high-rise buildings. They can also be used for rental apartments, where it's not necessary to invest as much.
Both external and interior blinds can be motorized or controlled via the Smart Home system. However, this is not recommended for internal blinds as it increases the costs, which is meant to be one of their main benefits.
How to combine sun shading?
While combining external and interior blinds doesn't make much sense, it can be great to combine external blinds with other means of internal sun shading, such as:
Folding textile blinds
Plisse roller blinds
Japanese shōji or sliding walls
In such cases, the external blinds are used to control the light and interior shading in order to improve the interior's appearance. On a cloudy day, for example, you can pull the external blinds up and use the internal protection to make the window appear less empty and improve privacy.
---
---