Choosing external blinds: how to know which ones are really good quality
Conscientiously made blinds will last for decades. But how do you know that you have not fallen for a marketing trap and that the manufacturer is really honest and its products will not fall apart after the warranty? In this article, we'll give you some advice on what to look for when choosing external blinds.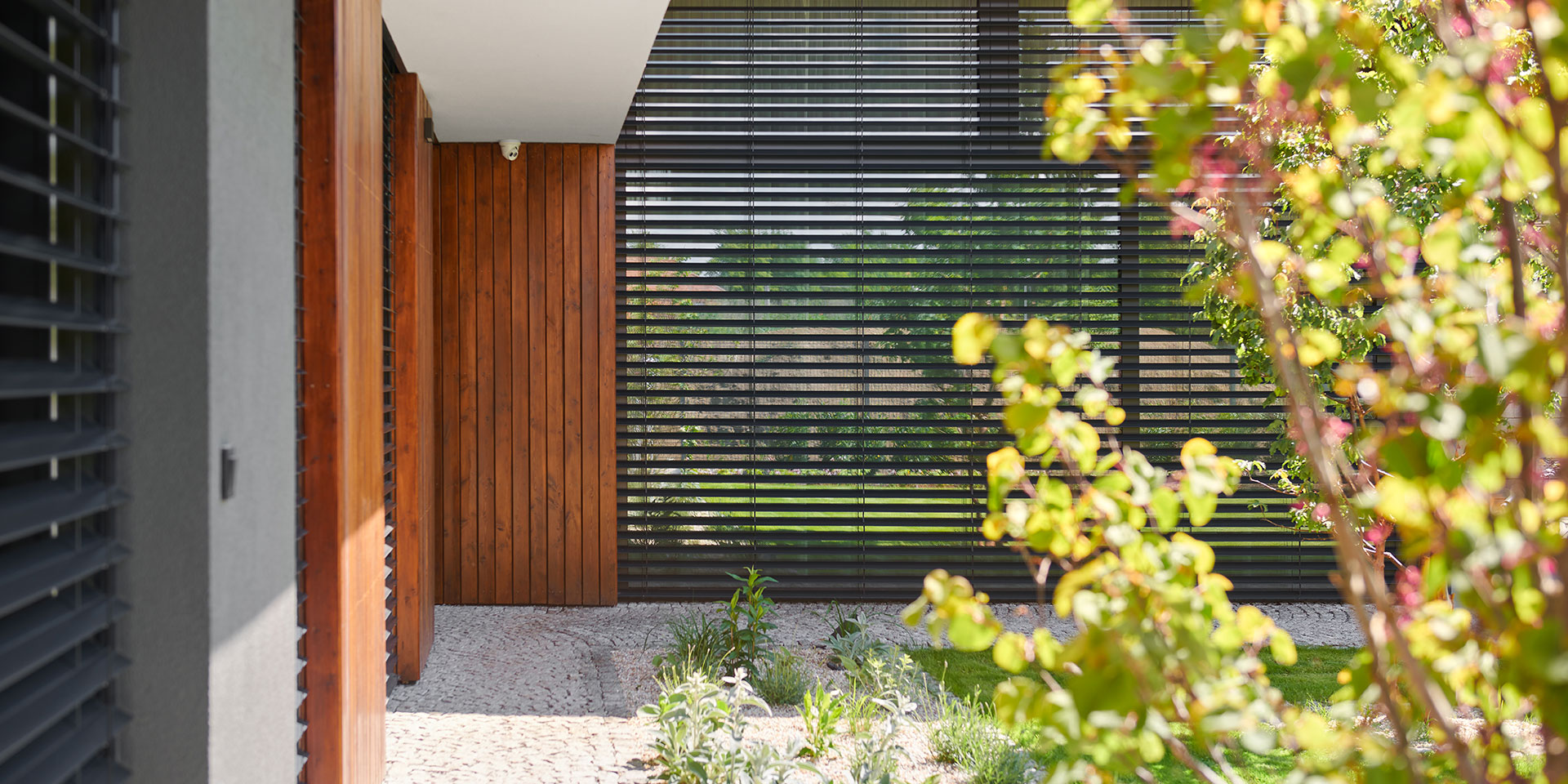 1. Observe the properties of the slats
Although there are also wooden ones, we will focus on the more common aluminium external blinds in this article. Their quality and durability are influenced by the aluminium rolls or slatting from which the individual slats are rolled. Most Czech manufacturers take very high quality slat rolls from Switzerland with a thickness of 0.4 mm. This thickness is just great enough and at the same time flexible enough to withstand possible pressures. What makes the blinds of each manufacturer different is the method and quality of rolling into the individual slats.
We roll the slats on rolling machines from the Czech company ZEBR, which custom makes them for us. Thanks to the really high pressure we can also fix the hooks for textile ladders perfectly into the slats so that they don't break loose even in destructive tests.
Wind and impact resistance, mechanical durability and thermal permeability are defined by standards, so you can easily compare these properties between manufacturers. You can usually find them in the product data sheets on their websites.
However, there are also important properties that are not covered by the standards and that you can look at even without paper documentation. Specifically:
closing of the blinds — when the window is shaded, the slats fit smoothly into each other and do not let light shine through where it shouldn't,

even running — all the slats are pulled and retracted in a straight line without jamming,

fixed height of the pulled-up packet of blinds — the blinds are always concealed in the cover box.
2. Components play a crucial role
The quality of blinds is most evident in the small components, which, although not visible at first glance, come under the most stress because they hold the whole assembly together. In general, components made of metal are more durable than components made of plastic — this applies to the guiding pins and the ladder connections, for example. It depends on the quality of the plastic, but in general plastics break more easily, deteriorate in winter and can warp due to heat.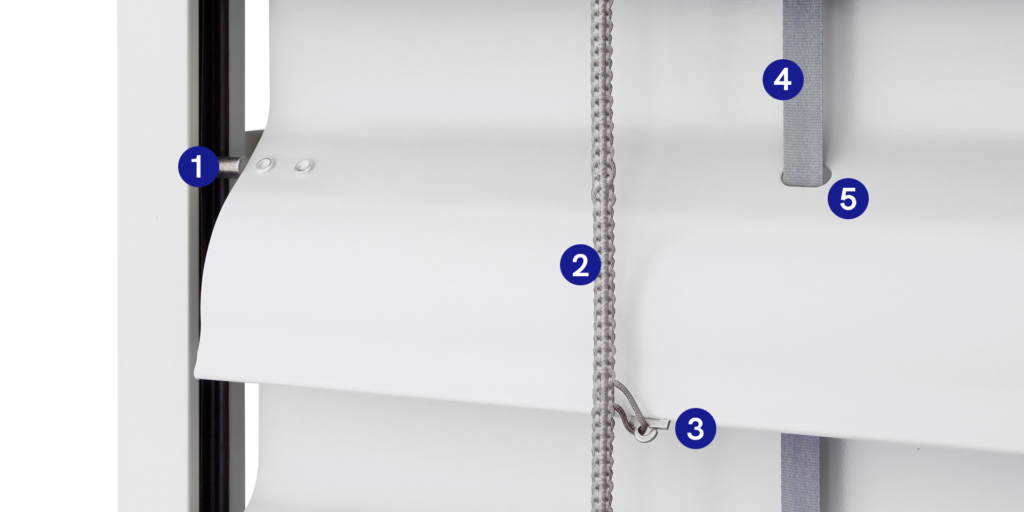 We have selected three key components that are most susceptible to damage. You can ask your supplier about them:
Lift tape passes through all the slats and holds the bottom profile (and thus the entire weight of the packet). Therefore, it must be strong and durable. Usually a 0.6 mm wide lift tape is used, but we at NEVA have found a wider 0.8 mm tape from a Swiss supplier to be a better choice.
The tape is threaded through a round hole cut in the slat. The edges of this hole can cut it. Some manufacturers do not address this, while others look for ways to prevent this and extend the life of the tape. Most often you will encounter a rounded hole in the slat (such as with NEVA blinds) or a plastic hole grommet.
A rubber seal on the bottom edge of the slats ensures that the slats fit together smoothly and quietly. After three to four years, a poor quality seal will harden and form cracks through which light can shine through. This is because the seal is susceptible to high temperatures and UV radiation. It is a big plus if the manufacturer pays attention to the quality of the rubber and extends its lifetime by at least a few years.
The ladder passes through the entire packet of slats and ensures that the slats tilt. It must therefore be strong enough not to fray. Cheaper manufacturers use plain polyester, while more expensive ones reinforce it with stronger materials. We use Kevlar, for example, which is used in bulletproof vests.
3. Motors and other accessories
Nowadays, most blinds sold are motorised. And motors in particular tend to be one of the most frequent causes of complaints about blinds. Therefore, check which supplier the blinds manufacturer gets the motors from. In particular, the length of the warrantywill tell you something about the quality. German and French companies such as Somfy, Geiger and Elero offer a five-year warranty and their quality reflects this. Romanian and Chinese manufacturers, on the other hand, do not offer great reliability in our experience.
If you can find a blinds manufacturer that provides a long warranty on blinds and the motor, is honest about the materials it uses to make them, and has been on the market for several years, you stand a better chance of not choosing wrong.
4. "Check out" the manufacturing and installation company
Outdoor shading has experienced a big boom in recent years, which is why more and more companies are appearing on the market to offer it. Beware of suspiciously cheap offers. It is always best to check out two companies and compare their offers. If they differ significantly, you can ask both companies why you should buy from them.
You can buy blinds directly from some manufacturers or from their distribution (installation) partners. In any case, it is important to know which company you are dealing with.
Find out how long the company has been manufacturing blinds.
With an established manufacturer, you can be sure that if the blinds need servicing or spare parts years later, they will still be available. The pitfall of new small companies is that you don't know if they'll still be around in a few years.
But at the same time, don't look for a company that is stuck in the last century. What's important is an appetite for innovation and technological improvements.
Make sure you get your blinds fitted by an experienced installer
In order for the blinds to work properly, specific procedures need to be followed where even mistakes of a few millimetres can be disastrous. If the manufacturer does not directly provide installation, also check the history and references of the installer. However, a reputable manufacturer will usually check the quality of their partner companies.
If you are planning to fit your blinds yourself, you'd better think again. You risk damaging products worth tens of thousands of Crowns. That's why manufacturers often do not recommend you install external blinds on your own as you will lose your warranty.
---
---