Conscientious work, minimum waste. At NEVA we're particular about product packing as well
As our shading often travels across half the world and then is passed from the hands of one assembly worker to another on the construction site, we care a lot about how it is packed. To make the work of assembly staff and carriers easier, we pack blinds and roller blinds as economically as possible and as safe as possible as well. Read how we proceed in doing so.
Transport determines the packing method
In order for our products to reach customers in perfect condition, we are very particular about how we pack them. Following final inspection, we intersperse all blinds and textile roller blinds with polystyrene blocks to prevent them from scratching one another. We also protect the guide pins and ladder from damage by covering them with stretch wrap to prevent them from breaking.
Then we send the blinds and textile roller blinds out using one of several methods, and the packing depends on it as well.
If we deliver shading by ourselves, we pack it only in bubble and stretch wrap. Our colleagues in the shipping department pack the blinds or roller blinds carefully and put them into the vehicle in such a way as to prevent any damage to them on their way to the customer. What's more, our drivers are trained and know how to handle the products.
If our shading is transported by an external carrier, we additionally pack it into boxes in which it is perfectly protected throughout the journey. We are helped in doing so by a formatting machine with "endless cardboard", which gauges each blind or roller blind and produces a made-to-measure box for it. The product will then not move in the box – ever since we have been packing our products in this way, we've seen a marked decrease in the number of complaints.
We also send our blinds by air
If our blinds or roller blinds are ordered by a customer, for example, in Japan or Australia, we ship our products by air. Besides packing our shading in wrap, we place it into boxes that we make in our joiner's shop, so nothing will happen to it during the long journey.
Only a minimum of waste is generated on the construction site
Thanks to this packing method, we prevent the generation of a large amount of waste on the construction site."It may sound banal but the packing method is very important to us, the assembly workers. When the blinds are packed in lots of cardboard boxes, it takes longer to unpack them and you then have to jump over heaps of boxes and packaging on the site. And that's unpleasant. People at NEVA evidently think about packing, the blinds are interspersed reasonably and secured in such a way so that they won't get damaged, and minimal waste is generated on the site at the same time", Ladislav Just, a MetalPlast worker, says with contentment.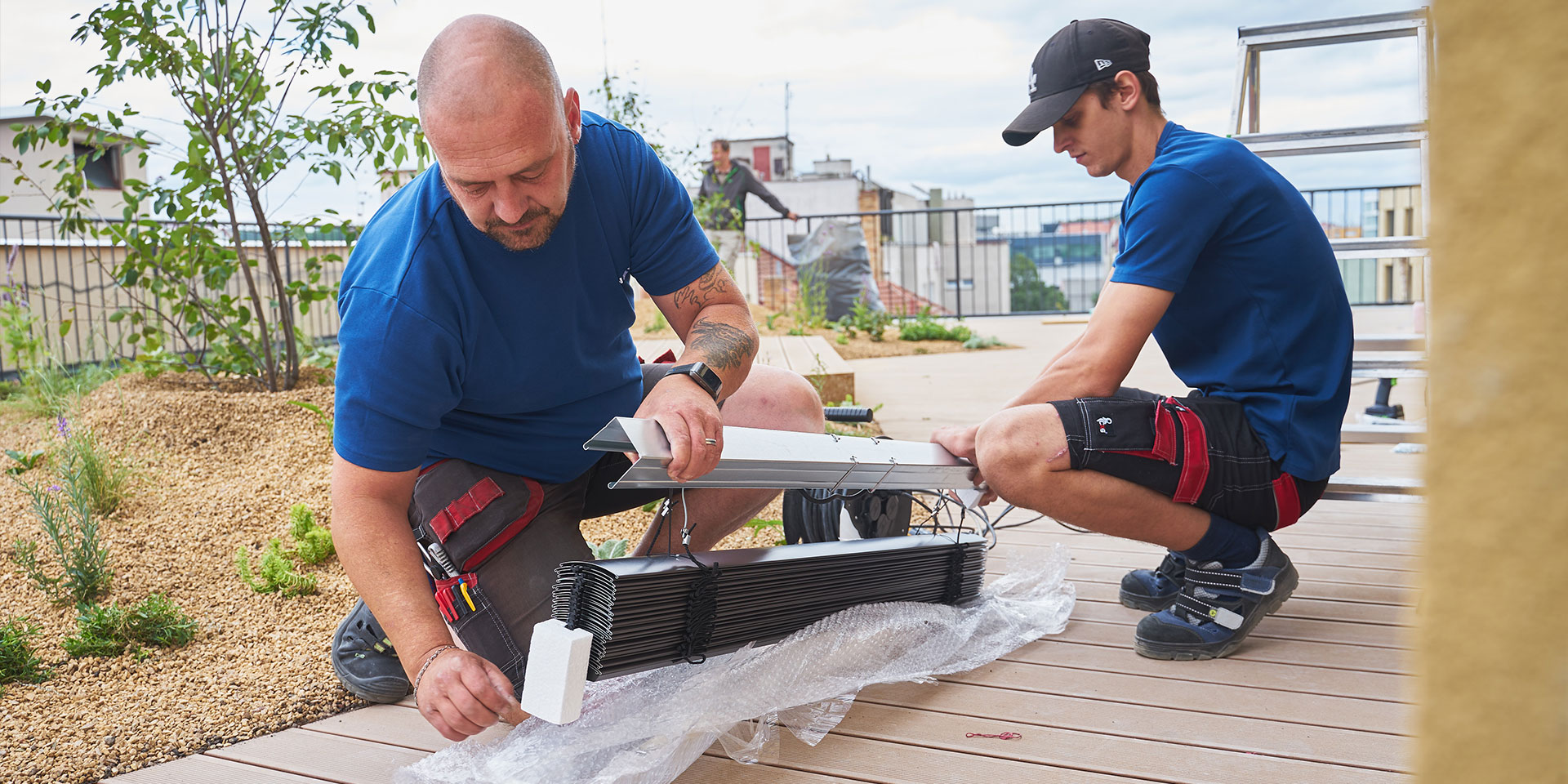 As we know what it's like on construction sites, we try to make work with our products as easy as possible. That's why we also care about the marking of individual items of blinds.
"The marking of blinds is one of the things that help us most during assembly work. NEVA labels its blinds in a very clear way, so we immediately know on the site which components go with which blind or which blind will be on which window", adds Just.
---
---