Surface of external blinds: smooth vs. textured paint on slats
In our production you will find almost all slats with textured paint. It does not retain as much dirt and is almost maintenance-free. In this article, we will tell you about the differences between smooth and textured finishes and what other finishing options we offer.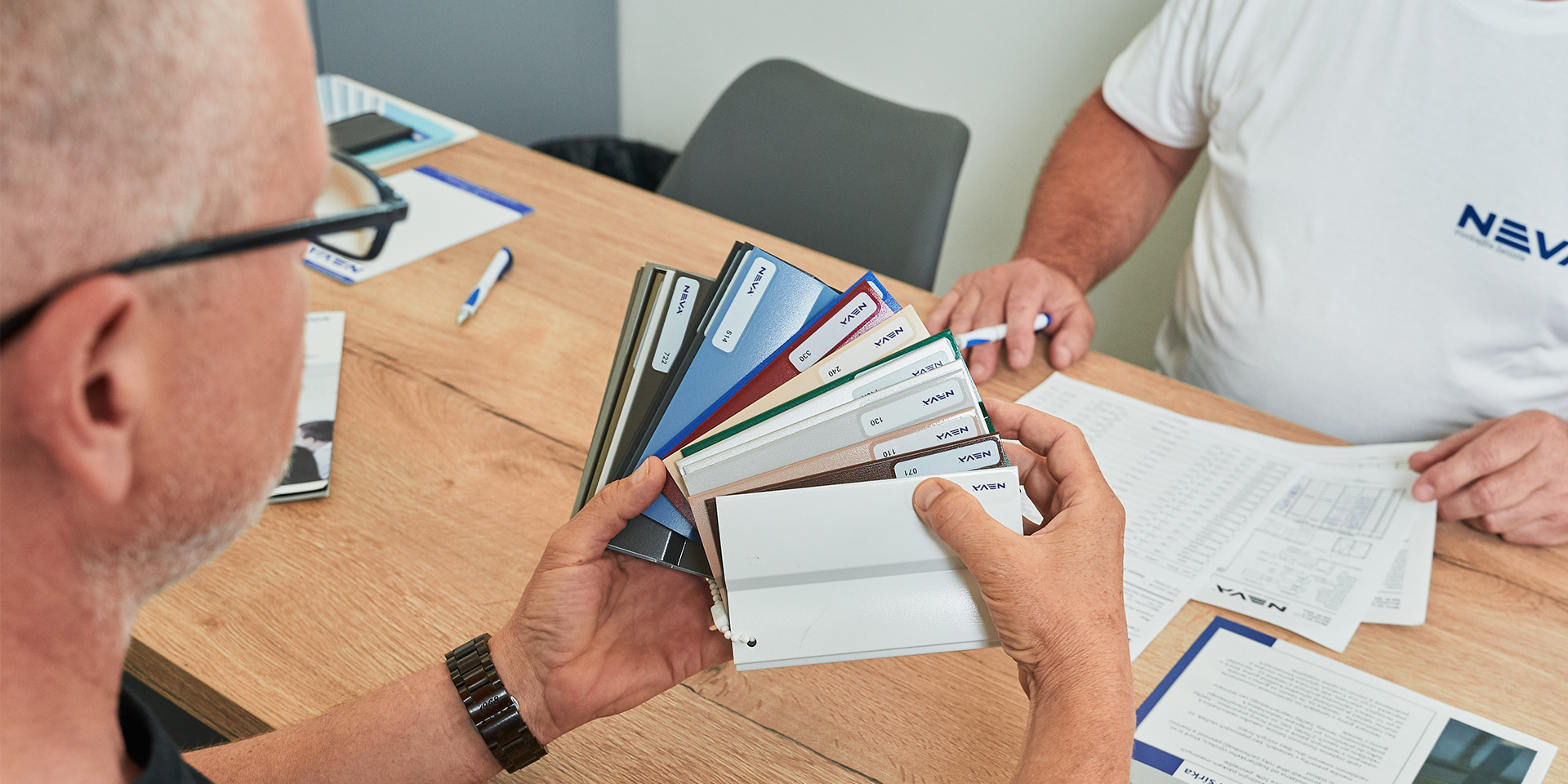 We take aluminium coils for slat production from the Swiss supplier Metalcolor already painted. Smooth as well as textured paint on the slats resists ultraviolet radiation and corrosion well, the result of harsh sunlight usually only being a slight fading of the colour. In our experience, slat paint lasts for decades – even in climatically extreme areas such as Israel, Norway or Australia.
The Swiss paint the slats using the wet multi-layer painting method:
for smooth paint using PE (polyester) coating at least 16 micrometres thick,
for textured paint using PU/PA (polyurethane/​polyamide) coating at least 18 micrometres thick.
Both paints are nice and smooth to the touch and you cannot tell the difference by looking at them. However, textured paint has better abrasion resistance than smooth paint, attracts less dirt and is easier to bend — there is less risk of cracking when bending.
Textured paint is easier to maintain.
The texture of the paint on the slat is formed by a polyamide (PA) or resin component. There is only one grain size, you do not choose between multiple levels for textured paint.
The main advantage of textured paint is higher resilience and better physical properties. The microscopic pores of the polyurethane/​polyamide in textured paint are smaller than those in smooth paint, so they do not retain dirt as much and can withstand weather changes better. Dust, pollen or raindrops are hardly visible on the textured surface. If you choose a neutral colour (grey or silver), textured blinds are virtually maintenance-free.
"Textured paint is more durable and hides dirt better, whichever colour you choose. In our experience, these slats also last longer than smooth ones," says Lukáš Musil, NEVA sales representative.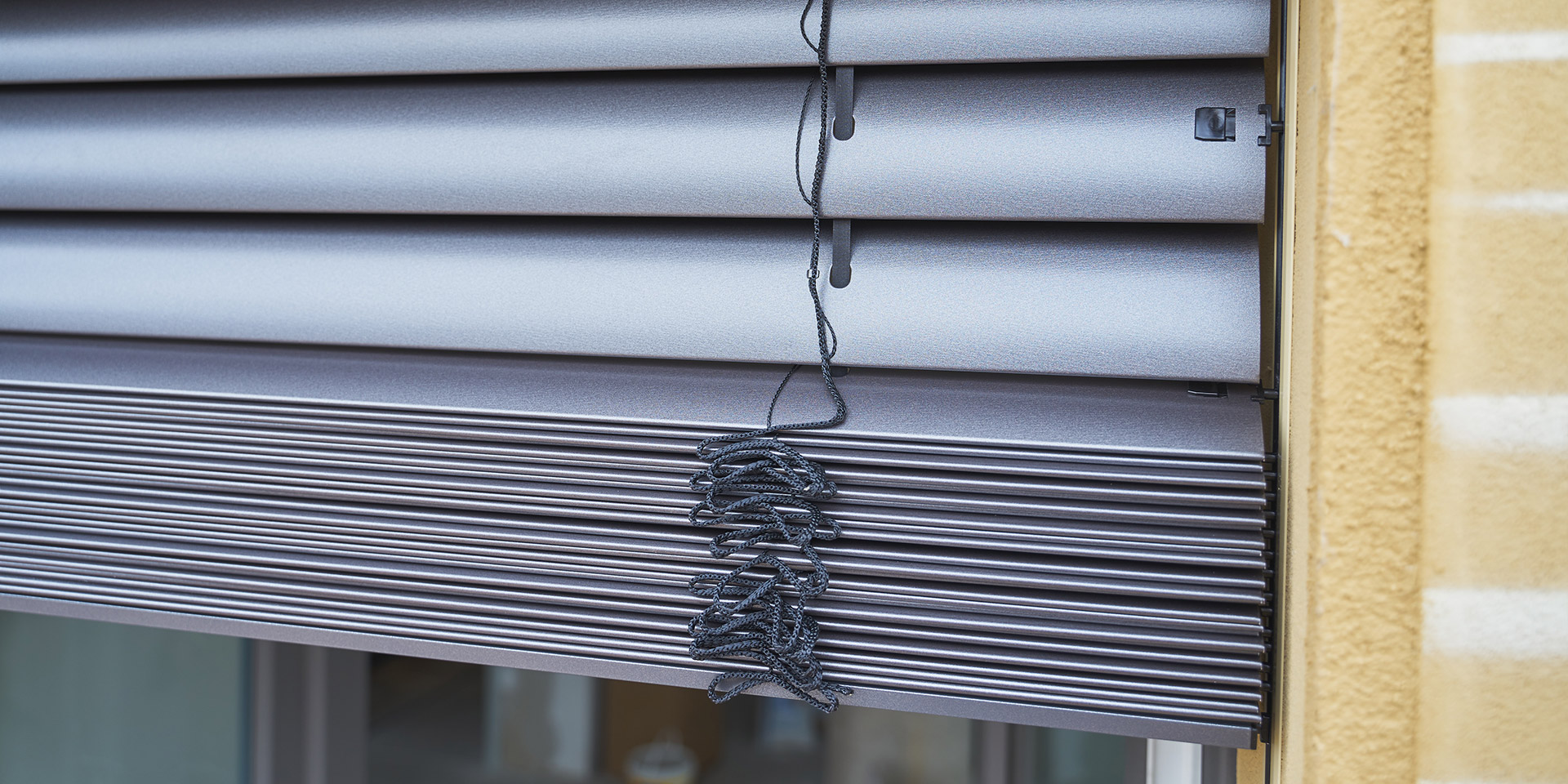 We do not offer smooth paint as standard.
At NEVA, we offer only one shade of grey as standard in the smooth version. The price is the same as all other basic colours in the textured version.
"If the customer wishes a different colour in a smooth finish, we are talking about a special slat stock, which must be made to order by the supplier. In this case, the customer will have to pay extra."
Smooth paint is shinier than textured paint, but you have to expect that dirt will show up sooner. Compared to the textured design, smooth paint slats are also harder to clean — cleaning leaves smudges or dried water droplets.
Other surface finish options
It does not have to end with choosing between a smooth or textured design. At NEVA we also offer other finishes for the slats:
Meco Elox – has an anodized look, but it is not anodized.
Meco Protect – thanks to nanoparticles, it attracts water, which then dries quickly.
Meco Touch – has a matt surface, is textured and more UV resistant.
Anodizing is a very popular chemical and thermal treatment. A protective layer of aluminium oxide is formed on the surface, which protects the blinds even better against rusting and UV rays. However, there is a difference between anodizing on the slats and on the accessories. While the accessories are indeed anodized (in different shades), the Meco Elox finish is just a special technology with an anodized look. It is available in a wide range of shades with different finishes – transparent, matt, semi-gloss or high gloss.
Meco Protect is a type of paint containing nanoparticles. When activated by UV light, it becomes extremely hydrophilic (attracts water) – only a small amount of water is needed to wash the slats and remove dirt. Water is also evenly dispersed in a thin layer over the surface of the slats and dries very quickly without leaving any drip marks on the slats.
These modifications are not standard. If you opt for them, expect to pay extra.
Contact one of our dealers for help in choosing between smooth and textured paint.
---
---