What is included in a quotation for external shading and what to look out for
When you get quotations for external shading from multiple companies, the NEVA blinds or screen roller blinds on offer are usually among the more expensive ones. However, you shouldn't just decide on the total amount, but compare comparable items. Shading systems vary considerably in quality, and not every dealer will include everything.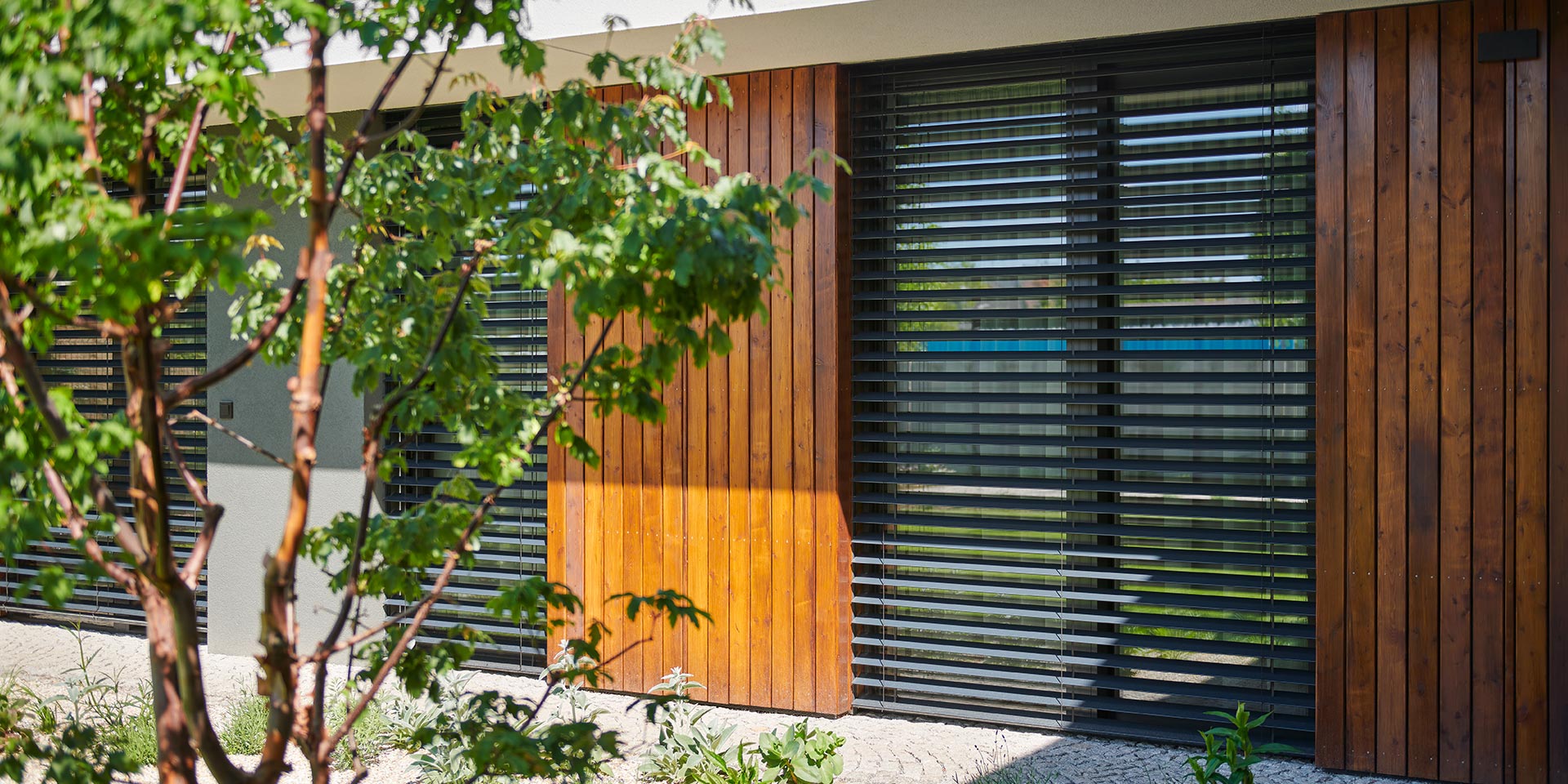 Preliminary costing for external shading
Directly on the websites of some dealers of external shading you will find an indicative calculation. To calculate the price you usually fill in:
type of external shading (blinds or roller blinds),

mounting method (cover sheet or flush box)
The price you find out this way is only approximate. In order to make an accurate quotation, the dealer needs to know many more details. He will usually discuss these with you at a face-to-face meeting, where you can also see the colours of the slats or feel the finishes on a swatch.
What a dealer needs to know in order to price external shading
Exact dimensions of all windows (or space) to the millimetre, as the shading is always made to measure,

how you will control the shading, and therefore what type of motor to select (wired/​​wireless),

if you have a new build or are refurbishing, whether the windows are on the ground floor or first floor (and therefore how challenging the installation will be — e.g. with a lifting platform the amount can go up),

which type of anchoring you choose (in the window frame, under the façade or on the façade),

where the building is located (the shipping cost is based on this).
Together with the dealer, you will also select other specific criteria for the external shading. For blinds for example:
slat type (for example, Z slats are more expensive than C slats),

colour of slats and components (there is a standard offer and atypical shades, which are available on request from the supplier),

surface finish of slats (smooth or textured lacquer).
type of fabric (polyester or glass fibre),

colour of the fabric and components,

other properties of the fabric (transmittance, openness factor).
If you have French windows or HS portals, you can also choose how many pieces of shading to put on these windows. You can shade the whole area with one piece (if the maximum dimensions allow it), or with a mullion, for example, to separate the fixed and opening part of the window (in this case, two pieces of shading are installed with the mullion).
Where do quotations for external shading differ
The devil is often in the details — like the thickness of the cover sheet. Some manufacturers skimp on it and make it out of coiled stock. That aluminium is thin and tends to warp. We at NEVA use aluminium plates for the cover sheets, which are stronger and more durable. But this is reflected in the price.
"Blinds installers are trained, so they usually already know how to handle cheaper cover sheets from other manufacturers. However, the problem may be with plasterers who may not know this and could inadvertently dent them on site," warns Mr Čtvrtník from Almma about the risk of thin sheets.
The differences in the quality of the components are only noticeable after a few years, at first glance they are invisible. At NEVA, we still care about quality — for example, we import lift tapes from Switzerland that are among the most durable on the market, and we can roll the slat hooks perfectly thanks to high-pressure rolling machines.
"When selecting a shading supplier, we immediately rejected some of them because we know that they skimp on their products' materials and use, for example, plastic components instead of metal ones. The blinds don't last as long and our installers often don't even want to install them because, with slight exaggeration, they break up in their hands on the construction site," says Dagmar Surá, Managing Director of SOLAR-TECHNIK .
The price is also influenced by the painting of the components. At NEVA we have our own powder coating shop, so component painting is automatically included in the basic price. Components from other manufacturers are cheaper, but only those with the basic anodised finish. Any paint is already extra.
Also, the price for installation can be set differently by each company — some have it as a unit price regardless of the nature of the building, and some may decide depending on what floor you are on or how accessible the windows are. With an installation company, it is also important to know if they guarantee a warranty service.
Conclusion: cheaper is not always better
If you are comparing multiple quotations, don't just go by the total amount. Differences in shading quality start to show after about five to eight years. With cheaper shading, components will start to fail and it will need servicing.
"Always look at the history of the manufacturing and installation company when selecting shading. A company with a track record is more likely to stay in business for the next 10 years and supply you with spare parts. It also makes a difference if your shading is installed by the installing company's employees, who vouch for the company's name and subsequent repairs, or just any old installers with no history that you will have a hard time finding years later," adds Almma's Mr. Čtvrtník in conclusion.
"At NEVA we have a 2 + 2 year extended warranty. And even if a part may be discontinued as standard, we are able to manufacture or source additional parts for our customers. Even after the warranty expires," adds Lukáš Musil, Sales Manager at NEVA.
If you would like to get a quote for NEVA external shading, please contact one of our partners.
---
---