Solar-powered outdoor screening: When it pays off
With solar-powered motors, you will not be dependent on the grid and you do not have to cut into the wall. On the other hand, these motors are more expensive and have a limited battery capacity. Who achieves savings through solar-powered screening and why?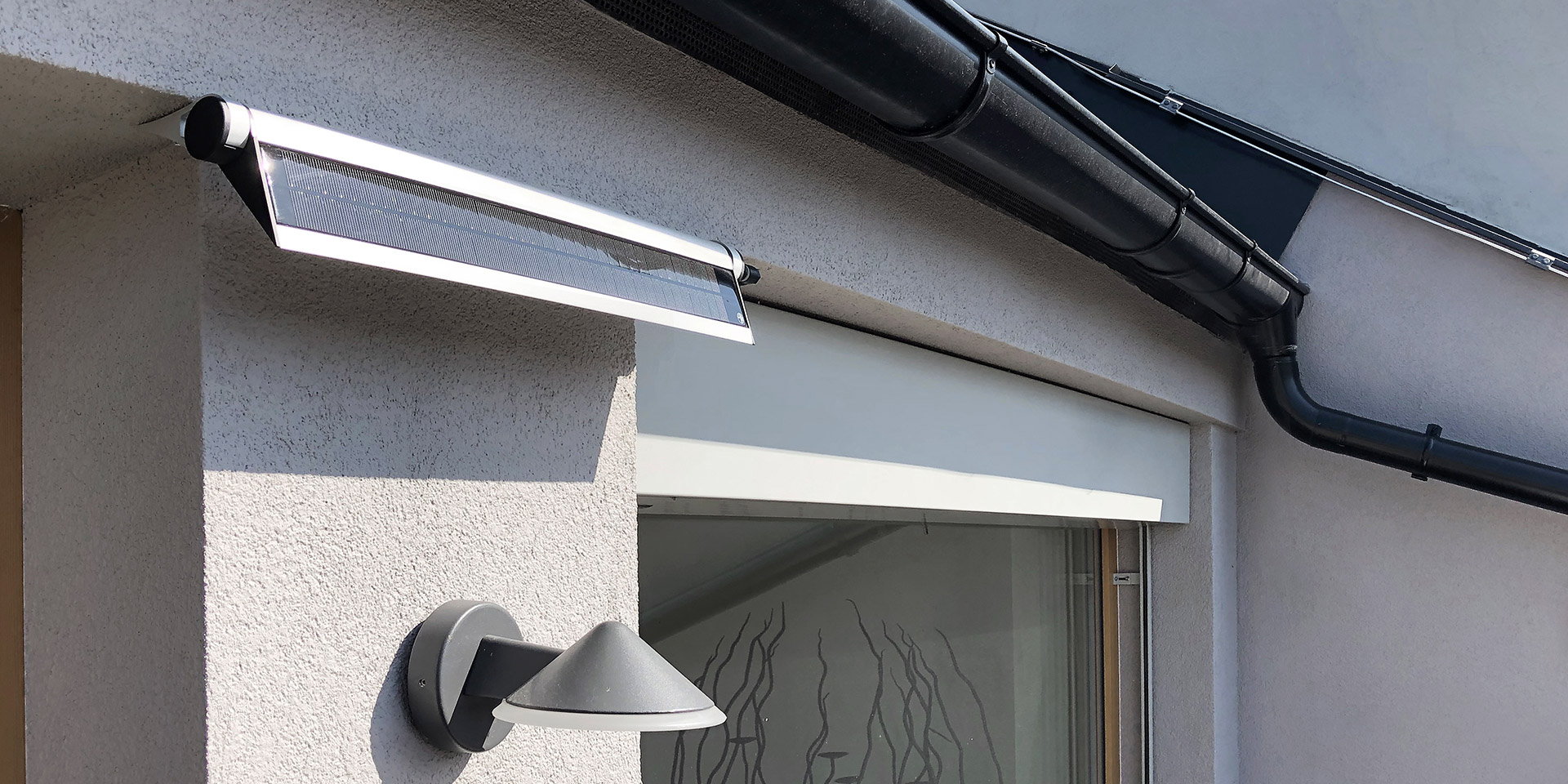 How does a solar-powered motor work?
A solar panel is placed outside on a beam or façade, from which a cable runs to a battery. The solar cells generate electric current, which is stored in the battery. The accumulated energy is then "distributed" evenly, so that the outdoor blinds work reliably. Day and night, in any weather.
And what about in winter, when there is little sunlight?
The solar cells work all year round. They do not just charge by direct radiation, they only need diffused light. But when it is cloudy for a long time, they do not produce as much energy as in the summer. It should not drain the battery, but it might not be enough to run fully. In the winter, we therefore recommend keeping the motor load to a minimum, ideally keeping the blinds closed at all times and only tilting the louvres when necessary.
The panel is frost resistant. Usually, there is no issue with it getting covered with snow — it is covered above the window (unlike roof panels). However, if this does happen, snow must be removed. Some motors are also bothered by a layer of dust. Be very careful when removing any snow. The solar cells are susceptible to damage.
Due to maintenance access, we do not recommend using this solution upstairs. The solar panels are ideal for the ground floor or above balcony windows where you always have easy access to them.
Who benefits most from solar powered blinds?
We asked Jan Musil, screening technology salesman at Mans, about this: "The main advantage is that you do not have to cut into the wall or install any visible plastic strips for electric power supply. We offer this solution especially to clients who have, for example, the nearest socket in the next room. In this case, only manual operation or solar power is an option."
This shows that a solar-powered motor is a great alternative for older homes, or if you are adding screening to just one or two windows. It is also useful for rooms where you manipulate the blinds minimally — such as a garage or utility room. Always remember that panels facing south, south-east, and south-west will receive the most sunlight.
Put photovoltaic panels rather on the roof
If you are planning a new building using alternative energy sources, Jan Musil recommends using photovoltaic panels on the roof or a heat pump to provide enough stable energy for the whole house. He would then connect blinds or shutters with a standard motor to the grid. "One system for the whole house is likely to be more sophisticated than a small solar panel with its own battery for every element separately," Musil says.
For low-energy or passive houses, it is expected that the exterior screening will be manipulated more frequently. But the battery of solar motors, on the other hand, stores a smaller amount of energy that might not be enough for repeated pulling up and down.
The blinds are not connected to a backup power source. So if, for example, they remain pulled down and shut and the battery runs down, you will not move them until the battery is recharged. Therefore, we would generally recommend this solution as an emergency option where you will only be tilting the louvres intermittently.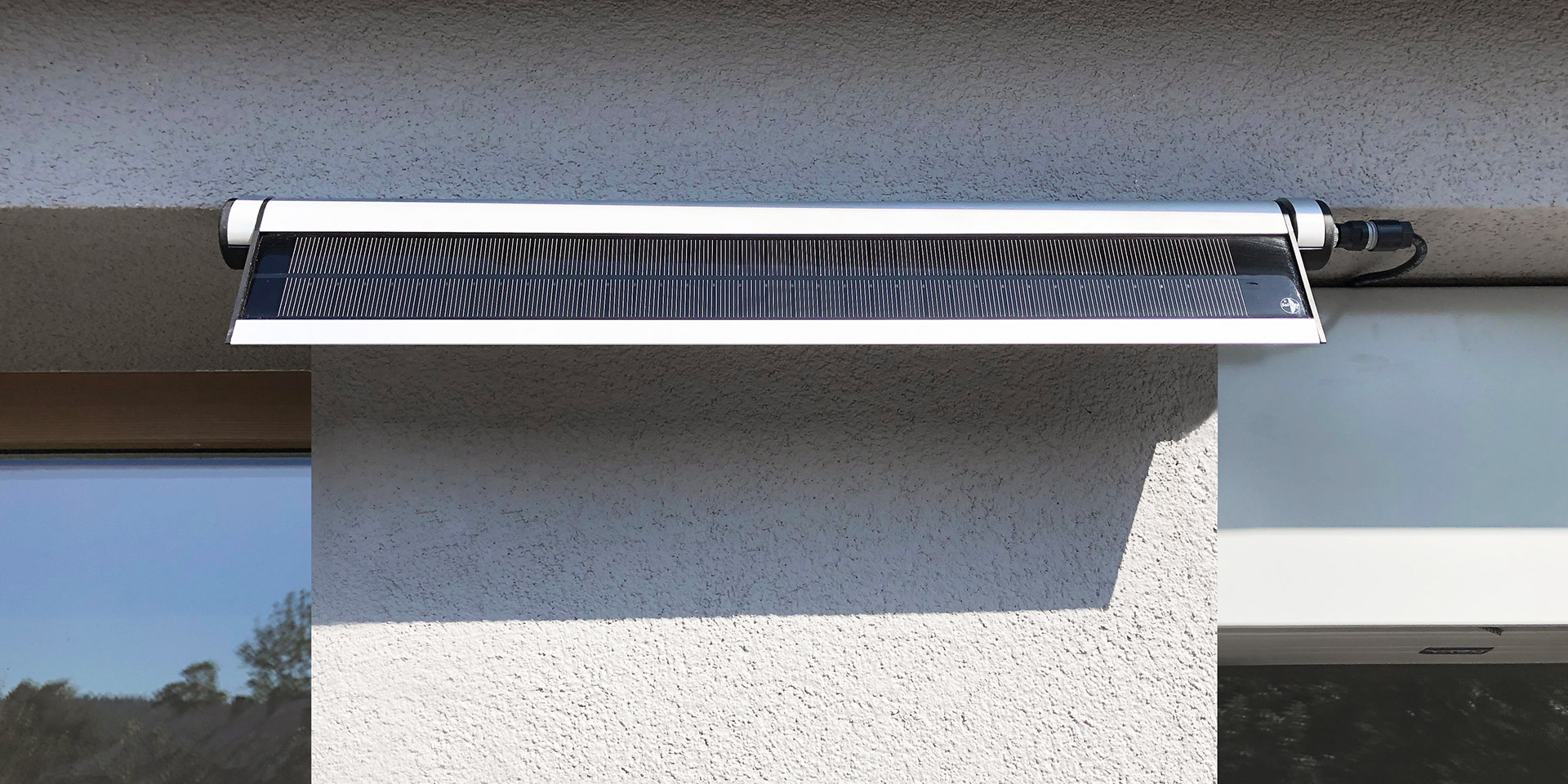 Advantages of solar-powered screening:
You are not dependent on mains electricity — it works even during power outages,

Works all year round (even when it is overcast),

You do not have to cut into the wall — ideal solution for building renovations.
Disadvantages of solar-powered screening:
Potential issue of compatibility with some other motors when retrofitting blinds.
As the blinds are not connected to the mains, their control is fully wireless. You will, therefore, use a portable controller.
If you apply for a subsidy for outdoor screening under the New Green Savings Programme, you will receive up to CZK 1,500 per square metre of shaded area for blinds controlled by an intelligent automatic system.
If you are planning to purchase screening technology, please contact one of our dealers. They will be happy to show you the advantages of each solution in person.
---
---